Eeeeeeeeek!!  Some exciting news to share with you about Harrogate this year!  I know a few people who are going to be squealing with excitement…particularly, my guest reviewer – Claire Knight!!  You ready?  Read on, #bookjunkies!
*PRESS RELEASE*
Killer Line up for 2017
The world's biggest celebration of the crime genre unveils its full programme at an exclusive launch party at Browns Courtrooms in London tonight (Wed April 5, 6.30pm). Tickets for all events go on sale April 6.
Alongside four days of Special Guests and panel events, the Theakston Old Peculier Crime Writing Festival has announced a major celebration of Agatha Christie. A new exhibition is to debut at the 2017 Festival and will explore connections between her writing, life and publishing career using rare photographs and documents from both the Agatha Christie and Collins archives in a visually led outdoor display.
The exhibition, part of HarperCollins' 200th anniversary, will be displayed at the Festival venue, the Old Swan Hotel, where Christie was found after her famous disappearance in 1926.*
The 2017 Theakston Old Peculier Crime Writing Festival's Programming Chair, Elly Griffiths, author of the Dr Ruth Galloway crime series, said: "The ghost of Agatha Christie clearly haunts the Old Swan Hotel. Nowhere is the genre she devoted her life to so enthusiastically celebrated than at the Theakston Old Peculier Crime Writing Festival – the biggest event devoted to crime fiction in Europe, if not the world."
The scan is of a transparency held by the Agatha Christie Archive Trust.
Festival goers will join the world's most celebrated crime authors 'in conversation, in action and in the bar' from 20 to 23 July. Special Guests are Dennis Lehane, Lee Child, Ian Rankin, Peter May, Stuart MacBride, Joseph Finder, Arne Dahl, Kathy Reichs, Brenda Blethyn, Robson Green and James Runcie.
Simon Theakston, Executive Director of T&R Theakstons and title sponsor, said: "2017 promises a remarkable Festival as we mark 30 years of Rebus with Ian Rankin, 20 years since Lee Child introduced us to Jack Reacher, and 15 years since Dennis Lehane released Shutter Island. I can think of no better place than our Festival – amongst readers, authors, and friends – to raise a glass of Theakston's beer to these giants of the genre."
The opening night features the crime writing equivalent of The Oscars, the Theakstons Old Peculier Crime Novel of the Year Award, in association with retail partner, WHSmith, and media partner, the Mail on Sunday.
TV panels will focus on ITV's Vera, featuring author Ann Cleeves and actress Brenda Blethyn, and ITV's Grantchester, with writer James Runcie and actor Robson Green.
Val McDermid's annual New Blood panel, one of the most anticipated events in publishing, features four hand-picked debuts from the Queen of Crime and the Festival's co-founder. 2017's debuts are Fiona Cummins, Jane Harper, Joseph Knox and Kristen Lepionka.
The day-long writing workshop, Creative Thursday also returns, with author and Professor of Creative Writing at the University of Glasgow, Louise Welsh, and Senior Lecturer of Creative Writing and Director of the new Crime Fiction MA at UEA, Henry Sutton, with a chance for aspiring crime writers to pitch to top agents and editors.
The festival will also serve up its usual helping of heated debate. From digging into the past to skirting the supernatural, panel authors include Chris Brookmyre, Mick Herron, Alifair Burke, Denise Mina, Belinda Bauer and Graeme Macrae Burnet, who was shortlisted for the 2016 Man Booker Prize. There will also be a panel exploring reboots of iconic crime characters, from Poirot to Sherlock, with authors Sophie Hannah, Ruth Ware and Stella Duffy.
Elly Griffiths delivers a special author dinner murder mystery, Digging up the Past, with help from Francis Pryor of Time Team fame. There'll also be a Graham Norton style Late Night Event with BBC's Pointless star, Richard Osman, featuring authors Lee Child, Val McDermid and Mark Billingham.
The event, delivered by the north's leading arts organisation, Harrogate International Festivals, is one of the most important in the crime publishing calendar. Agents, publishers, publicists, readers and authors attend from all over Europe and the world.
The Festival is famed for its no barriers approach, as fans, fledgling writers and established superstar authors mingle in the hotel bar, bookshop and papakata tents in the hotel grounds.
Theakston Old Peculier Crime Writing Festival, the Old Swan Hotel, Harrogate, 20-23 July, 2017. www.harrogateinternationalfestivals.com Box Office: 01423 562 303. Tickets for all events on sale April 6.
Were you squealing!?  Don't know about you, but I am so excited! Hope to see you all in July and make sure you say "Hello!" ?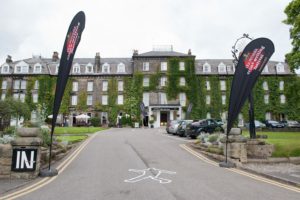 Photo by Angus McBean