I am so excited and cannot believe I was asked to take part in Simon Beckett's The Restless Dead blog tour!!  OMFG! I am over the moon to be sharing my review with you all today and would like to say a mahoosive thanks to Hannah Bright and Transworld for an ARC of this book!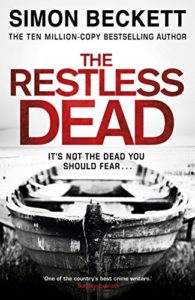 Synopsis:
'Composed of over sixty per cent water itself, a human body isn't naturally buoyant. It will float only for as long as there is air in its lungs, before gradually sinking to the bottom as the air seeps out. If the water is very cold or deep, it will remain there, undergoing a slow, dark dissolution that can take years. But if the water is warm enough for bacteria to feed and multiply, then it will continue to decompose. Gases will build up in the intestines, increasing the body's buoyancy until it floats again.
And the dead will literally rise . . . '
Once one of the country's most respected forensics experts, Dr David Hunter is facing an uncertain professional – and personal – future. So when he gets a call from Essex police, he's eager for the chance to assist them.
A badly decomposed body has been found in a desolate area of tidal mudflats and saltmarsh called the Backwaters. Under pressure to close the case, the police want Hunter to help with the recovery and identification.
It's thought the remains are those of Leo Villiers, the son of a prominent businessman who vanished weeks ago. To complicate matters, it was rumoured that Villiers was having an affair with a local woman. And she too is missing.
But Hunter has his doubts about the identity. He knows the condition of the unrecognizable body could hide a multitude of sins. Then more remains are discovered – and these remote wetlands begin to give up their secrets . . .
With its eerie, claustrophobic sense of place, viscerally authentic detail and explosive heart-in-mouth moments, The Restless Dead offers a masterclass in crime fiction and marks the stunning return of one of the genre's best.
My Rating:  5/5      #AllTheStars
My Review:
WOW! WOW! WOW! WOW! WOW! – that is a WOW for every well deserved star I gave this book as guess what…I bloody LOVED it!
Set in a place called the Backwaters (of Essex) this book is filled to the brim with loss, jealousy, greed, secrets & betrayal, sadness and the ultimate search for answers.
Plot wise, there is an obvious forensic focus as Dr David Hunter, the main character is a forensic expert. The pace builds up beautifully from the get go and once it reaches the plateau – well OMG, you had better hold on as it just takes off, leaving the reader to race through the pages for the ultimate conclusion.  I loved the storyline and the descriptive text and narrative was perfect – it didn't leave me confused or having to google every second paragraph.  This book reminded me how much I love this sub-genre in crime fiction as you get down to the nitty gritty of the murder(s) and use the techniques so often over-looked when solving a crime!  Bloody brilliant!!
Anyone who follows my blog/reads my reviews will know that characters are the one thing I absolutely adore in books.  In The Restless Dead the reader is offered some amazing and fascinating characters who develop wonderfully throughout the story.  I could go through each and every one of them and explain why (a) they were necessary to move the story along and (b) they were believable and had an impact on me as a reader, but that would take too long – so I will touch upon a few to give you a taste of what I mean.
I have to mention Dr David Hunter, not only because he is the main character of the book/series, but also because I was totally drawn to him as a person! A forensic anthropologist, though he was a GP at one point – I guess working with the dead can sometimes be easier than working with the living! He is haunted by his past and this makes him somewhat guarded.  He was vulnerable yet had strength to persevere even when his body and mind told him not to.  He is not afraid to challenge others and go against what he is told to do.  He is just such a likeable character!
DI Lundy – I wasn't sure what to make of him at first or whether I liked him or not. He is quite abrubt, gruff and a bit moody – but as the story unfolds, he really grew on me.  I also felt the same about Rachel – initially I just did not warm to her.  She has massive barriers up to keep most people….even the reader, lol, out!  But once the barriers started to come down and the real Rachel was revealed, well she was pretty damn awesome! Edgar was a fantastic throwaway character.  He progressed the story and showed just how easy it was to point the finger of blame at someone who is vulnerable and easily led.  He suffered his own tragedy and my heart really went out to this character.  Finally, I just want to mention Leo Villiers – the rich boy who disappeared when a local woman went missing.  It seemed his family practically owned the Backwaters and were above the law.  I did not like him one bit….but things change.
This book had everything! Twists, suspense, murder, mystery and some wonderful characters.  Do I recommend this read?  Hell Yeah I do!  Although it can easily be read as a stand-alone, I loved it so much, I went and bought myself the first two books in the series!  To grab a copy of The Restless Dead, just click on the book below!