My 'lil star guest reviewer, Claire Knight, is hosting the fantabulous Rob Sinclair's The Red Cobra blog tour today!  Scroll down and catch her awesome review as well as info about the man himself and how to hook up with him…on social media, of course! ?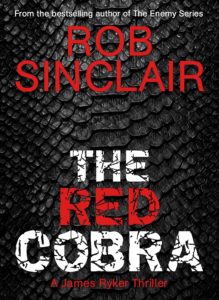 Synopsis:
Carl Logan dedicated nearly twenty years of his life to the Joint Intelligence Agency. Now living in a secret location, under the new identify of James Ryker, he wants nothing more than to be left alone, the chance to start a new life away from chaos, violence, destruction and deceit.
It's not long, however, before Ryker's short-lived idle is destroyed when he is tracked down by Peter Winter, his ex-boss at the JIA. Winter brings with him news of the murder of a woman in Spain, Kim Walker, whose fingerprints match those of one of Ryker's former adversaries who's been missing presumed dead for years – an infamous female assassin known as the Red Cobra.
A cyberattack at the JIA led to the Red Cobra's profile being compromised, and Winter believes JIA agents may now be at risk too, Ryker included. But Ryker knew the elusive Red Cobra better than anyone, and when he sees the grisly pictures of Kim Walker's corpse, he has news for Winter – she isn't the assassin at all …
So just who is the mystery dead woman? And where is the real Red Cobra?
Claire's Rating: 4.5/5
Claire's Review:
When I heard Rob Sinclair was continuing the Carl Logan story, I was delighted. I loved the Enemy series when I read them last year so I was desperate to see what Logan was up to…..but no Carl Logan is no more!!! Introducing James Ryker, living the quiet life with his wife Lisa in the US.
The Red Cobra opens with a rather gruesome first chapter and even first line "She wiped the bloodied knife". What more do you need to grab your attention?! The story that follows plots the history of the Red Cobra alongside Ryker's mission even though he no longer an agent for the JIA….in fact he's meant to be dead! But it's amazing what a dead man can do…..
I loved the sedate backdrop of the Spanish countryside, the small villages and towns in the hillsides, the tapas bars, even the traditional bull fighting venues. I felt I was there basking in the Iberian sunshine alongside Ryker chasing the elusive Red Cobra.
I have to admit, having read all Mr Sinclair's book now, I much prefer the Logan/Ryker novels. I don't really read many action thrillers but the author's writing really captures my imagination and leaves me wanting more, in a good way!! The Red Cobra is definitely no different, I can not wait to see what faces Ryker next #nospoiler…..
This novel is action packed and Logan….I mean Ryker is back with a bang!!
Big thanks to Bloodhound Books for my advanced reader copy of The Red Cobra. Bring on book 2!!
About The Author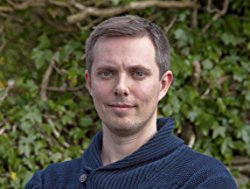 Rob is the author of the critically acclaimed and bestselling Enemy series of espionage thrillers featuring embattled agent Carl Logan, with over 200,000 copies sold to date. The Enemy series has received widespread critical acclaim with many reviewers and readers having likened Rob's work to authors at the very top of the genre, including Lee Child and Vince Flynn.
​
Rob's fourth book, the pulsating psychological thriller Dark Fragments, released by Bloodhound Books in November 2016, has been described as 'clever' and 'chilling' and an 'expertly crafted' story, and became an Amazon UK top 50 bestseller soon after its release.
​
Rob's forthcoming James Ryker series follows on from the Enemy books, with the first novel, The Red Cobra, being released in April 2017.
​
Rob began writing in 2009 following a promise to his wife, an avid reader, that he could pen a 'can't put down' thriller. He worked for nearly 13 years for a global accounting firm after graduating from The University of Nottingham in 2002, specialising in forensic fraud investigations at both national and international levels. Rob now writes full time.
Originally from the North East of England, Rob has lived and worked in a number of fast paced cities, including New York, and is now settled in the West Midlands with his wife and young sons.
Originally from the North East of England, Rob has lived and worked in a number of fast paced cities, including New York, and is now settled in the West Midlands with his wife and young sons.
Links: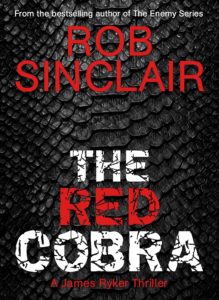 FACEBOOK: https://www.facebook.com/robsinclairauthor/?fref=ts
TWITTER: @RSinclairAuthor 
WEBSITE: http://www.robsinclairauthor.com/