I cannot believe I am FINALLY on a Cally Taylor (C.L. Taylor)  blog tour!  Eeeeek!  Thanks a million to Avon Books for an ARC of The Escape. Let's do this, #bookjunkies!!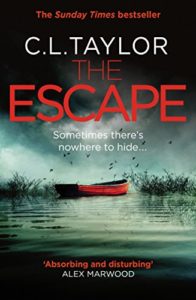 Synopsis:
"Look after your daughter's things. And your daughter…"
When a stranger asks Jo Blackmore for a lift she says yes, then swiftly wishes she hadn't.
The stranger knows Jo's name, she knows her husband Max and she's got a glove belonging to Jo's two year old daughter Elise.
What begins with a subtle threat swiftly turns into a nightmare as the police, social services and even Jo's own husband turn against her.
No one believes that Elise is in danger. But Jo knows there's only one way to keep her child safe – RUN.
My Rating:  5/5 – #AllTheStars
My Review:
Set in Bristol – but we also get to visit Ireland ☘️, this is one of those books that has your head spinning – in a good way- because of everything that you, as the reader, come across.  We are placed head on to face fears, manipulation, anger, all levels of control but also survival (physical and mental), strength, courage and doing absolutely whatever it takes to protect those you love. It was like a tug of war at times!
And OMFG! What an intense and gripping plot this book has!  The start is not only pure brilliance, it is pretty damn creepy!  C.L Taylor immediately grabs her reader by the throat with a #killerhook that makes it inevitable that you will have to carry on! I could feel the tension and anxiety building up right from the get go and the fast pace had me cursing everytime a bit of reality made me put the book down!
Character driven, this story has an amazing cast of individuals who really draw out all sorts of emotions in the reader. I wish I could write a little bit about every one of them as their parts contributed to driving the story along in such a subtle way at times, that I had a few 'aha!' moments when the pieces started to come together!  I LOVE that!  Jo Blackmore was such an interesting character because there were times I was really drawn to her and other times I just wanted to smack her silly and tell her to get on with it!  Her agoraphobia and panic attacks often paralyse her so that even though she knows what she should be doing, her fears stop her.  Despite this, she really grows and becomes a strong, determined and courageous individual that you cannot help but cheer her on!  Her husband, Max was another one where I adored him/felt for him at one moment and then despised his cowardice at other times.  I am sure I uttered "Bastard" more than once!  What about Paula!?  What is her game?  I had so many questions about this character who was manipulative, nasty and damaged – she certainly brought out a few emotions!  Finally, let's talk about Mary – What a great character!!  She had an underlying vulnerability which she hid under a cloak of steel – one minute I didn't trust her, the next I wanted to give her a great big cuddle…WTF?!  Like I said at the start, pure brilliance!!  There are so many other characters I could write about – but these were the ones that crawled under my skin and wouldn't let go the most!
Full of twists, suspense and so many OMFG moments, this book definitely gets a Hell Yeah recommendation from me!  It is the first of C.L. Taylor's books that I have read (despite having the others on my TBR) but it will definitely not be the last!  I have made it easy for you – just click the book below and grab yourself a copy of The Escape which has definitely made my #TopReadsOf2017 list! #Boom!