Woohoo!  My stop on Douglas Skelton's Tag You're Dead has finally arrived!  Thrilled to be kicking off this tour as I briefly did a review a few weeks back on Two Crime Writers and a Microphone podcast but I am excited to share my full review today!  As ever, my thanks to Gordon of Grab This Book and the lovely Sara Hunt of Saraband/Contraband publishing for asking me to be a part of the blog tour and for an ARC of this book! Shall we get this badboy started!?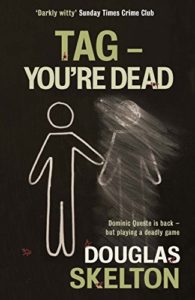 Synopsis:
Sam the butcher is missing, and maverick investigator Dominic Queste is on the case. But it's not because he misses Sam's prize-winning steak pies… A dangerous man has arrived in Glasgow. He's no small-town crook, and he's leaving a trail of disturbing clues across the city, starting with the missing cousin of Queste's new lover. Amidst a twisted game of cat and mouse, suspicious coppers and a seemingly random burglary at the judge's house, Queste has to keep his wits about him. Or he might just find himself on the butcher's block.
My Rating: 5/5
My Review:
Set in Glasgow, the reader is faced with many things, such as overcoming the past, loss, a search for the truth, mistrust and a building of walls (metaphorically speaking) to keep up a facade – but there is so much more to this story, I just thought I would highlight a few of the themes running through this book.  I love the main characters name: Queste as he IS on a quest of sorts in the search for answers!
Right…now we get down the the good stuff!  OMFG peeps!  The #Killerhook at the start just grabs you from the get go! There is a wonderful old school PI feel in modern times about this book that I simply adored! With dry-wit and off the cuff banter, the fast paced plot will keep the reader turner the pages in this quirky, cool and fantastically clever story-line!
Dominic Queste is now up there with my favourite non-police investigators!  I mean he is kind of like a rogue PI and I loved him from the start!  His sense of humour matches mine and so I immediately was drawn to him.  I also wondered as I turned the pages whether the author put some of himself in this character as there were some personality similarities – perhaps subtle, or maybe not-  but in my opinion, they were there.  Queste definitely reminded me of a gumshoe detective who on the surface appears to be hard-nose & reserved, but had a vulnerability under all the layers he put out to people.  Determined to find the truth, he would do what was necessary to get the answers he sought! *High Five* for Quest!
Three other characters also stood out to me.  Ginty- Quest's love interest – had a past that left her wary of opening up.  Sassy, intelligent and intriguing – she was someone that Queste desperately wanted as a permanent fixture in his life but was also afraid of what he brought to the table.  Would his lifestyle put her off?  Is he punching above his weight?  You'll have to read the book to find that out!  ? The other two who need a mention are the 'goons': Duncan and Hamish – Oh my giddy aunt, what a pair! These two were the enforcers of sorts and got Queste out of some particularly sticky situations,  What I loved about them was they just don't seem to have any fear and there was an almost unspoken but known loyalty between these three.  Bloody brilliant!
Finally…the baddie…ooooooo I do LOVE a good baddie and The Nightcaller was definitely one of them!! As the synopsis notes, this person plays a pretty disturbing game of cat & mouse with Queste and all through out, the reader is questioning why?  Taunting, teasing and keeping Queste on his toes, The Nightcaller sent a few shivers up and down my spine!
I absolutely ADORE Douglas Skelton's Davie McCall series (another #FictionalBoyfriend of mine…ahem) so if I am honest, I was slightly worried as to whether or not this series would grab me the same way.  I need not have worried at all!  This is a cracking series from an author I hugely admire and I am more than thrilled to say that it most definitely gets a Hell Yeah recommendation from me!  Out April 27th, you can pre order your copy now! Woohoo!  Just click the wee book below!