Whoop Whoop!  I am thrilled that my ever so awesome Guest Reviewer, Claire Knight is today hosting Caroline Mitchell's SLEEP TIGHT blog tour!  It's a cracking review for an eery, dark and tantalisingly terrifying second book in the DS Ruby Preston series!  I will be reviewing this book in the near future, but for now, grab a cuppa and enjoy a bit about the twisted Caroline Mitchell and Claire's thoughts on Bookouture's latest book from Caroline!
About The Author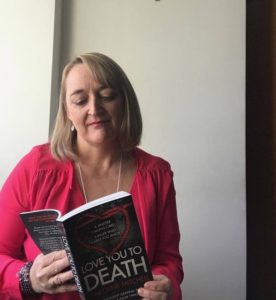 A former police detective, Caroline has worked in CID and specialised in roles dealing with vulnerable victims, high risk victims of domestic abuse, and serious sexual offences.
Originally from Ireland, Caroline lives with her family in a pretty village on the coast of Essex. She now writes full time.
www.caroline-writes.com
https://www.facebook.com/CMitchellAuthor/
https://twitter.com/Caroline_writes
Synopsis: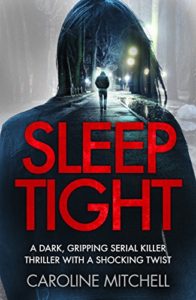 Close your eyes … Just pray you don't wake up.
A killer stalks the streets of East London. All over the area, murdered young women are discovered, their bodies posed into a sickening recreation of fairytale princesses.
Detective Ruby Preston is determined to hunt down a disturbed individual who is using the women to realise their twisted fantasies. But when body parts are found at the home of her lover, Nathan Crosby, Ruby is torn between her job and her heart.
Convinced that he is being framed, Ruby must catch the killer before Nathan becomes the number one suspect. But as more victims are found, it becomes harder to prove his innocence.
Ruby is in too deep, knowing that the cruel individual is getting ever closer, looking for his next beautiful victim. But can she stop a killer hell-bent on fulfilling their horrific desires – before it's too late? And how well does she really know the man she loves?
A terrifying, addictive serial killer thriller that will keep you on the edge of your seat, for readers of Angela Marsons, Peter James and Rachel Abbott.
Claire's Rating: 5/5
Claire's Review:
One thing I have to say about Caroline Mitchell is she knows how to write a cracking prologue. Just like Love you to Death, Sleep Tight kicks off with a very chilling start to set the scene! And the story does not get to thaw out as Ruby's investigative skills are truly tested in this twisted tale.
Once again, Ruby's life is turned upside down both personally and professionally as she hunts an evil, sick killer – her colleagues are gunning for her childhood sweetheart Nathan. Ruby's actions are under scrutiny and her loyalties are tested and questioned. Could this be the case that could destroy her?!
Personally I don't have a fear of doctors (I know some do) and to me, The Doctor is a time travelling earth saving Gallifreyan (preferably one who wears Converse high tops and shouts Allons-y with Rose Tyler in tow, if you catch my drift). But The Doctor Caroline Mitchell has created couldn't be further from that friendly image. He's a scalpel wielding cold hearted killer out to terrorise the streets of London. He's a sinister being not to be messed with. But Ruby Preston must step up to the plate and take him on. Will she catch him before the clock runs out and he completes his dastardly plan? You'll have to read this chilling crime thriller to find out.
Needless to say, I loved this second instalment of the Ruby Preston series. I've read all of Caroline Mitchell's fictional stories and I haven't read one thing I didn't like. I thought Love You To Death was chilling; Caroline Mitchell has exceeded herself with Sleep Tight. The use of the fairy tale re-enactments as the Grimm Brothers originally wrote them is very twisted – loved it! If you enjoyed reading Love You To Death, you are so in for a treat with this follow-up. Its so dark and twisted, it'll grab you by the throat and not let you go until the fast paced tale is done!
A massive thank you to Bookouture for my advanced reader copy of this twisted crime thriller. When's book 3 out?? #NoPressureCaroline
This is one book you don't want to miss out on #Bookjunkies!  To help you out on that front, I have attached the US/UK links to amazon ….#JustSaying ?
UK ?? http://amzn.to/2oFTxLj
US ?? http://amzn.to/2npDVLY