Well you know I am going to be OMFG-ing and Eeeeeek-ing about this book – though you will have to wait for my review as today my 'lil star, Claire Knight is hosting Robert Bryndza's – Last Breath on CrimeBookJunkie!  Woohoo!  Needless to say, we BOTH adore this author and his books just keep getting better and better! And we can't leave out THAT cover…that GORGEOUS, haunting, creepy and deliciously eery cover! #Covergasm
So I am thrilled to say that #ErikaIsBack and to share Claire's AWESOME review with you all!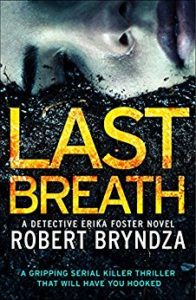 Synopsis:
He's your perfect date. You're his next victim.
When the tortured body of a young woman is found in a dumpster, her eyes swollen shut and her clothes soaked with blood, Detective Erika Foster is one of the first at the crime scene. The trouble is, this time, it's not her case.
While she fights to secure her place on the investigation team, Erika can't help but get involved and quickly finds a link to the unsolved murder of a woman four months earlier. Dumped in a similar location, both women have identical wounds – a fatal incision to their femoral artery.
Stalking his victims online, the killer is preying on young pretty women using a fake identity. How will Erika catch a murderer who doesn't seem to exist?
Then another girl is abducted while waiting for a date. Erika and her team must get to her before she becomes another dead victim, and, come face to face with a terrifyingly sadistic individual.
Gripping, tense and impossible to put down, Last Breath will have you on the edge of your seat, racing to the final dramatic page.
Claire's Rating: 5/5
Claire's Review:
Erika Foster is back and this time she's got a fight on her hands. She's fighting for the case she is desperate to solve. The body of a young woman thrown into a dumpster like a piece of rubbish in the depths of winter.
We discover who the killer is quite early on, but this doesn't detract from the enjoyment of the investigation. In fact, shadowing this twisted killer adds to the story as it is interspersed with the police investigation, each step getting that little bit closer to Erika catching this evil killer. Meanwhile Erika has to prove herself again in the myriad of police politics and personal agendas standing in her way of fighting crime on the streets of the big smoke.
This book is a lesson on the dangers of social media and meeting people on line. Is everyone who they say they are?? Robert Bryndza shows us that adults can be targeted with fake profiles and that concept isn't totally out of his imagination. Personally I have been targeted by someone with a fake profile, thankfully not as a future victim of a killer but she was a thief. It just goes to show that adults can be duped by people they meet on line – do you know everyone you're friends with on Facebook?
Robert Bryndza has written four excellent novels before Last Breath and this latest offering definitely lives up to its predecessors. It's fast paced with Erika's race against the clock to catch the killer before they strike again. I did sit there with my hand over my mouth at various points through the story and as the investigation reached its climax, I was holding my breath willing the team to get there in time. If you've loved the previous Erika Foster books, you are in for a treat!!
A massive thank you to Bookouture and Netgalley for my copy and thanks to Kim Nash for asking me to host the #Crimebookjunkie stop of the blog tour. And not forgetting the wonderful Noelle for letting me host ?? just one question – Robert when's the next one out? Feeling withdrawal symptoms already ?
What did I say? Bloody brilliant review and another winning book for Robert Bryndza!  Fancy a read? Click the book below for a quick trip to amazon!