Wow!  Thrilled that my 'lil possum guest reviewer,
Claire Knight

is hosting the fabulous Faithless by Kjell Ola Dahl blog tour today! Huge thanks to Anne Cater/Karen Sullivan at 

Orenda

for the opportunity!  Now get yourselves comfortable and have a read of Claire's awesome review!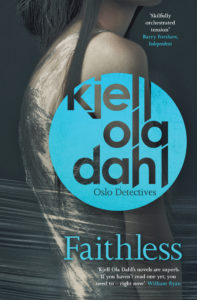 Synopsis:
When the body of a woman turns up in a dumpster, scalded and wrapped in plastic, Inspector Frank Frølich is shocked to discover that he knows her—and their recent meetings may hold the clue to her murder. As he begins to look deeper into the tragic events surrounding her death, Frølich's colleague Gunnarstranda finds another body, and things take a more sinister turn. With a cold case involving the murder of a young girl in northern Norway casting a shadow, and an unsettling number of coincidences clouding the plot, Frølich is forced to look into his own past to find the answers—and the killer—before he strikes again.
Claire's Rating: 4/5
Claire's Review:
"The person who killed Veronika was in the same place as her. Those who were elsewhere are not under suspicion. Simple as that." All Detective Frank Frølich is work out where Veronika was when she was killed – simple right?! 276 pages says otherwise!
Faithless starts as a sedate detective novel with two crimes to solve: the aforementioned murder of Veronika, the fiancé of his childhood friend Karl Anders and the case of the missing Ugandan student who vanished into thin air two days after arriving in Oslo. Bubbling away in the background are threads of stories, the personal lives of the detectives working with Frølich which start to spill into the investigations. And Frølich is no different – his past with Karl Anders brings forth many questions – why did the gents who were so close as children drift apart? You'll just have to read the book to find out for yourself!
The sedateness of the book isn't off putting, it provides intrigue that kept me reading. And I am so glad I did, the second half of the book gathered pace, not to the full extent of some crime thrillers I've read – it was no grand prix but it definitely hit something above the national speed limit as the two investigations climaxed with Frølich in the midst of it all. There were plenty of twists and surprises along the way!
The writing style reminded me of Gunnar Staalesen. I don't know if the author was influenced by his fellow Norwegian or this is the style that hails from this Scandinavian country. Either way, if you like your Scandi-crime, this is an author to look out for!
Many thanks to Orenda Books and Anne Cater for asking me to take part in the Faithless blog tour and for my copy of this instalment of the #OsloDetectives series and massive thanks to Noelle for letting me host the stop for CrimeBookJunkie.
You're welcome, 'lil star!  Another fantastic review which has me adding this book to my TBR!  Head over to amazon by clicking the book below if you want to add to your to-be-read pile too! Woohoo!