Cover your ears, #bookjunkies as there is a mahoosive Eeeeeeeeeeeeeeeeeeek! coming your way!  I am head over heels happy to be a part of Michael J Malone's Dog Fight blog tour today!  Big hugs to the author, Sara Hunt of Contraband/Saraband Publishing and the awesome Gordon McGhie of Grab This Book for the ARC and organisation…but most of all for including me! Yay!!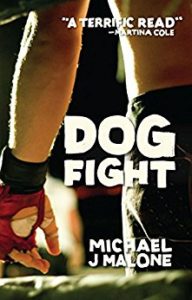 Synopsis: 
"A terrifc read." – Martina Cole.
Kenny O'Neill, a villain with a conscience, returns in a hard-hitting thriller of exploitation, corruption and criminal gangs. When Kenny's cousin, Ian, comes to the aid of a fellow ex-squaddie in a heap of trouble, he gets caught up in the vicious underground fight scene, where callous criminals prey on the vulnerable, damaged and homeless. With Ian in too deep to escape, Kenny has no option other than to infiltrate the gang for the sake of his family. Kenny is an experienced MMA fighter, as tough as they come, but has he found himself in the one fight he can never win?
My Rating: 5/5 – #AllTheFrigginStars ⭐⭐⭐⭐⭐
My Review:
OH MY GOD peeps!  You have no idea how excited I was when this badboy landed on my kindle…no…idea!!!  I had been desperately waiting for Mr O'Neill to return so I could take him to bed with me and ….oh…sorry….not that kind of review! ? Seriously though, Kenny O'Neill is one of those characters that you absorb, he gets into your head and will not leave! #FictionalCrush
Set in Glasgow, the reader is thrown into a world where corruption, violence and exploiting the vulnerable take over the pages.  There are revelations, secrets, mental health, murder, and a search for justice and the truth.  Lives are turned on their heads and consequences are ignored.  Hell yeah – can you hear the Eeeeek's!?
I have to say that the prologue of this book knocked me for six with a #killerhook – I knew Michael J Malone would not disappoint me!  The writing is tight, the storyline riveting and the character's voices scream from the pages!  Every page I turned, I was waiting for THAT moment -the gasp, the nail-biting WTAF feeling…and it was delivered….tenfold!  Fast-paced, tense, gripping and well…bloody awesome!  I am still in awe as to why one of the big publishers have not snapped this author up…I mean WTAF?  Simply superb just does not even cut it!
*Jumps up and down excitedly* – can we talk Kenny O'Neill!? De-bloody-licious!  I would not kick this guy out of bed for eating crackers….oh no I wouldn't! *Fans myself*, sorry…I may have a wee #FictionalCrush on Kenny – totally badass but deep, deep down- there is a good heart in that body.  He is loyal, protective but also reserved in a sense as only a few people know the real Kenny…. His cousin, Ian is also a great character -Kenny knows something that is going to have a big impact on Ian, in recovery (drugs), everyday is a struggle for this lost soul.  You really can't help but cheer him on.  You have no idea how much more I want to say…but I can't, because that will spoils things…but JAYSUS….I was one happy CrimeBookJunkie with how this book turned out….and that is all I am saying about that!  But I can't move on without mentioning the wild child, Myleene.  She almost stole the show for me; Feisty, clever but looking to just be a part of something, I absolutely adored her!
I also loved the humour and banter that really brought the characters alive and I recognised some names mentioned in this book and giggled a bit….the characters sure have good taste in books! Ha ha!  So the big question is…would I recommend this book?  OMFG….I hope it is obvious….HELL YEAH I do!!  Both the McBain and O'Neill series are a fast favourite of mine and although I think each can be read on their own…well, you just won't get the full, fabulous experience so you may as well buy the whole series!!  Trust me, you will not regret it!  Click the wee cover below for a quick trip to amazon!  A #TopRead of 2017 – Dog Fight is one book you need on your TBR! And have a look at the blog tour banner below to see what everyone else thinks….but if they don't love it, I may have to give them a #GlasgowKiss ?