Today my 'lil star guest reviewer, Claire Knight, shares her thoughts on H.K Thompson's Becoming Tess.  Grab a cuppa and have a read of her brilliant review!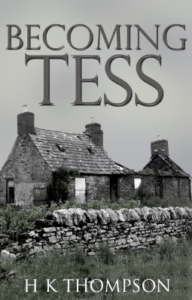 Synopsis:
Growing up in a dysfunctional family is a bad start in life. Tess Dawson had a very bad start, a start that led to events that she didn't choose , including a daughter, Rachel…
How did Rachel die? Tess can't remember. But how her brother, Stephen, died she can remember – she just hasn't told anyone. In fact, for months before, during and after her trial, she hasn't spoken a word. Until, that is, she meets her therapist, Evelyn Doyle, and the whole story of her journey to west Wales to see her brother unfolds in the privacy of the therapy room.
The telling of Tess's story becomes a race against time as Peter Archer, Director of the progressive penal institution, has taken against her. Tess must, at all costs, be kept at the Unit until she's told her story, and unlocked the dark and life-changing secret that she herself does not yet know.
Claire's Rating: 3.5/5
Claire's Review:
This book opens with bags of intrigue; the first chapter is chilling with Tess effectively exhuming the remains of a baby. What has she done?
The story is quite sedate in nature; a slow burner but it has a few surprises along the way. The story is predominantly played out through Tess' therapy sessions with Evelyn.
Tess is a messed up young woman from an equally messed up family. Her mother bullies her and her older brother sees that as the done thing and to get matriarchal approval, makes #poorpoorTess' life hell – a very dysfunctional family to say the least!
I really like Evelyn and her co-conspirator Ann; they're both looking out for Tess, willing to fight her corner to ensure she gets the best care after whatever has happened to her. Between them they don't know exactly what's happened but they know Tess is vulnerable and needs someone to speak up for her.
The author definitely has a way with words. I dont think I've ever read the terms "phantasmagorical" and "neurological maelstroms" – I actually had to look up what "phantasmagorical" meant! And in case you're wondering, dictionary definition is "having a fantastic or deceptive appearance, as something in a dream or created by the imagination".
This book may be a little sedate but it is very dark in places with plenty of intrigue to keep the attention.
Many thanks to Troubadour Publishing, Matador and Netgalley for giving me an e-copy of Becoming Tess.
Thanks for sharing your review, Claire!  It is not up on amazon, but if this book interests you then pop over to goodreads and add it to your TBR pile!