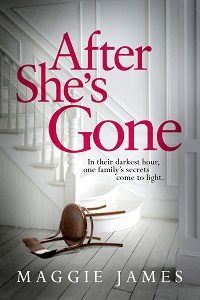 Synopsis:
Lori Golden's family have had more than their fair share of troubles. But through it all, Lori and her sister, Jessie, have always supported each other. Then Jessie is killed. And Lori's world turns upside down.
Devastated, Lori struggles to cope with her loss, and to learn to live in a world without her bright, bubbly sister by her side. Around her, her already fractured family start to fall apart. And, as Lori and her mother try to pick up the pieces of their shattered lives, secrets long thought buried are coming painfully to light.
Faced with the unthinkable, Lori is forced to ask herself how well she really knows those who are left behind…
My Rating: 3.5/5
My Review:
My thanks to Lake Union and Netgalley for an ARC of this book.
The book is set in Bristol with themes of loss, secrets, betrayal, cover-up, suspicion, blame and searching for the truth screaming out at the reader at various times throughout the story.
A complex plot-line draws the reader in from the start – I was totally intrigued as the finger of suspicion was pointed at nearly everyone I came across, at one point, I wondered if I did it! ? The main POV was Lori Golden and all is definitely not what it seems.  Despite guessing the ending fairly early on (of course, I didn't know my detective skills were on top form until the end!), I really enjoyed the story-line and scribbled lots of notes and questions as I turned the pages! (That would be my Detective skills on high alert!)  I didn't, however, understand why full names of characters (first & last) were used throughout when their part had already been introduced.  So when Lori's mother was introduced to the story, rarely was she called mum or mother. That threw me a little bit, but I soon got over it once the pattern was established.
There were many diverse characters in this story and so much going on with them, I was gasping with the revelations!   A few stood out more than others to me, so I will give them a mention.  Lori Golden was a brilliant character- despite the fact that she annoyed me alot of the time.  She came across as determined and assertive, yet other times she kept her mouth shut when I thought for sure she was going to do something.  I found myself making many assumptions and jumping to conclusions the same way Lori did – we were both immersed in the trail of secrets, I wondered where we would end up!  Spencer Hamilton was another great chracter.  He finds Jessie's body (Lori's sister) and does himself no favours.  His father Jake, is in a relationship with Dana (Lori's mum) and there are a lot of unspoken feelings between this trio that make the reader question everything.  Aiden and Ryan are two other characters who you will either love or hate. Both wanting to be equally supportive of Lori but each left me wondering what their motives were.  That is what I like about this book, it keeps you on your toes!
As I mentioned earlier, all is not what it seems in After She's Gone.  I have read a few of this author's books and will certainly be reading more!  If you like psychological thrillers with a twist, Maggie James is definitely one author to put on your radar.  You can browse her books or check this one out by clicking the book below! Happy shopping, #bookjunkies!