Well what do we have here?!  A bloody gorgeous cover…that's what!  #Covergasm ? I also have a brilliant review from my 'lil star guest reviewer…Claire Knight!  Plus a shout out to the awesome Luca Veste and Steve Cavanagh, aka TWO CRIME WRITERS AND A MICROPHONE! *waves*.  Enjoy, #bookjunkies!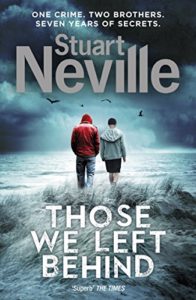 Synopsis:
DCI Serena Flanagan is forced to confront a disturbing case from her past: the murder conviction of a 12-year-old-boy who has just been released from prison
DCI Serena Flanagan hasn't heard the boy's name in years.
Not since the blood on the wall and the body in the bedroom.
Not since she listened as he confessed to brutally murdering his foster father.
But now Ciaran Devine is out of prison and back in her life. And so is his brother, Thomas – the brother that Flanagan always suspected of hiding something.
When Ciaran's probation officer comes Flanagan with fresh fears about the Devines, the years of lies begin to unravel, setting a deadly chain of events in motion.
Claire's Rating: 5/5
Claire's Review:
I had Those We Left Behind sat on my Netgalley shelf for some time, I'm ashamed to say. But when I won a competition on the #TwoCrimeWritersAndAMicrophone podcast and the author very kindly sent me a signed copy of said novel, I made the conscious decision to read Those We Left Behind very soon – the kindle version rather than my personalised signed paperback, oh no that's sat on a special shelf.
The prologue is brilliant, it set the scene for the rest of the book. The total sense of the bond of brotherly love but it gave me goosebumps – the scene the author depicted of two teenage brothers surrounded by a bloodbath and me as the reader not knowing what has happened. Jump forward a prison sentence and the younger brother Ciaran is being released from prison to be reunited with Thomas his older brother who has been out 2 years.
I loved the author's style; the book is fast paced without me realising it. I raced through the book as it jumped between the story in the present and the historic investigation. Stuart Neville uses great imagery. I didn't realise how descriptive the book was but I felt fully submerged in both timelines; sat in the interview room, being questioned by Serena Flanagan, digging up the field with Ciaran and the other probationers, going for a spin with Thomas. The characters the author creates are complex to begin with and the more you learn about them, the more layers of complexity you peel back.
I felt for Ciaran; he's only got his brother in life and what a brother he is. Ciaran has lost both parents and been moved from pillar to post in the foster care system. But his constant has been Thomas, whose dominance and control might be viewed as his protectiveness of his younger brother. But that is to Ciaran's detriment, the full extent you will only find out by reading this dark crime story.
I will definitely be looking out for more from Stuart Neville, he writes an excellent crime thriller if Those We Left Behind is anything to go by!
Many thanks to Vintage Digital, Random House, Harvill Secker and Netgalley for giving me an ecopy of Those We Left Behind. I can't wait to read the next Serena Flanagan instalment later in the year!
What a great review, Claire!  Think I need to #Bump this badboy up my TBR!  Fancy a read?  Click the book and grab a copy from amazon! ?