Eeeeeek!  My 'lil star guest reviewer has finally joined the #EddieFlynn fan club! Yay!  I am a huge fan of Steve Cavanagh and this series – I will shortly be making a right arse of myself in a video for the latest in this series: The Liar!  You can also read my review of The Plea HERE and see why this series is so awesome!  But first, check out Claire's cracking review of The Defence!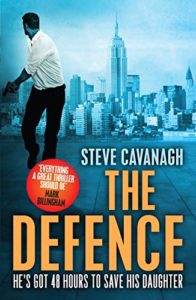 Synopsis:
Eddie Flynn used to be a con artist. Then he became a lawyer. Turned out the two weren't that different.
It's been over a year since Eddie vowed never to set foot in a courtroom again. But now he doesn't have a choice. Olek Volchek, the infamous head of the Russian mafia in New York, has strapped a bomb to Eddie's back and kidnapped his ten-year-old daughter, Amy. Eddie only has forty-eight hours to defend Volchek in an impossible murder trial – and win – if he wants to save his daughter.
Under the scrutiny of the media and the FBI, Eddie must use his razor-sharp wit and every con-artist trick in the book to defend his 'client' and ensure Amy's safety. With the timer on his back ticking away, can Eddie convince the jury of the impossible?
Claire's Rating:  4.5/5
Claire's Review:
I've been meaning to read The Defence for a while as I bought it shortly after its release and to make sure, I placed it on my #mustreadin2017 list (yes I have a list of books I want to read this year on top of my review pile…I must be mad). I know #mamapossum Noelle and Kate over at Bibliophile Book Club both love a bit of Eddie Flynn so I knew I was in safe hands with this read – these two ladies know what they're talking about!!
I loved this tense legal thriller – it felt like a John Grisham and Mario Puzo story rolled into one. Yes, I know John Grisham does involve the mob in some of his works but the presence of the mob was a lot more prominent in The Defence and the threat that the mafia exudes in The Godfather novel is there in your face with Mr Cavanagh's tale!!
I felt I was there Stateside with Eddie – I couldn't believe that Steve Cavanagh was not a native American. The whole backdrop felt real!! The courtroom, the diners, the whole shebang!
I really felt for Eddie; his hand was forced into doing something he really didn't want to with no way out and the more I read about him, despite being a con artist, he wormed his way into my affections. Oh and the back story to his departure from the law oh wow what a story…..but that's all I'm saying on that matter – you need to read this fantabulous thriller to find out what I'm talking about!
I used to read a lot of legal thrillers – I devoured all of John Grisham's early novels as soon as they were released but for no real reason I moved more into the crime thrillers set within the police force or psychological thrillers, leaving the courtroom behind. But reading the Defence has reignited my love for this genre and I'll be on the lookout for more as well as bringing myself up to date with the dashing Mr Flynn. I've got the prequel The Cross sat waiting in the wings and I will be treating myself to The Plea before long (and before The Liar hits bookshelves).
If action packed thrillers with twists to keep you guessing are your thing, then give The Defence a try. It's a little firecracker of a thriller.
Woohoo!  Thanks to Claire for her awesome review and I am thrilled this series has captured her interest! I have to say – although this series is a legal thriller of sorts, it is not your average legal thriller and really has a massive action/crime thriller element that draws you in completely!  Don't believe me? Click the wee book below and check it out for yourself!