Woohoo!  Thrilled that my 'lil star, Claire Knight is hosting a stop on Orenda's #EPIC blog tour for Matt Wesolowski's Six Stories!  I won't make you wait….ENJOY! Oh, one more thing….check out these awesome pics from the recent Orenda Roadshow when Claire met the author!  Eeeeeek! How cool is that?  #NotAJealousCrimeBookJunkie ??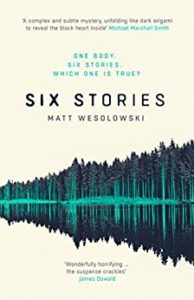 Synopsis:
1997. Scarclaw Fell. The body of teenager Tom Jeffries is found at an outward bound centre. Verdict? Misadventure. But not everyone is convinced. And the truth of what happened in the beautiful but eerie fell is locked in the memories of the tight-knit group of friends who embarked on that fateful trip, and the flimsy testimony of those living nearby. 2017. Enter elusive investigative journalist Scott King, whose podcast examinations of complicated cases have rivalled the success of Serial, with his concealed identity making him a cult internet figure. In a series of six interviews, King attempts to work out how the dynamics of a group of idle teenagers conspired with the sinister legends surrounding the fell to result in Jeffries' mysterious death. And who's to blame … As every interview unveils a new revelation, you'll be forced to work out for yourself how Tom Jeffries died, and who is telling the truth. A chilling, unpredictable and startling thriller, Six Stories is also a classic murder mystery with a modern twist, and a devastating ending.
Claire's Rating: 5/5            ⭐⭐⭐⭐⭐
Claire's Review:
When I heard Kate Moloney of Bibliophile Book Club recommending Six Stories on the #TwoCrimeWritersandaMicrophone podcast just before Christmas, it went straight on my wishlist. When the lovely Karen Sullivan (Mrs Orenda Books) asked for volunteers for the blog tour and my extremely accommodating and lovely #mamapossum Noelle said I could host a stop on the tour, I was a very happy bunny. Little did I know what I was letting myself in for.
Six Stories is written in a very different way to 99% of books I've read; six podcasts each separated by a chapter of dialogue. The podcasts are essentially interviews with a group of people who were friends as teenagers but drifted apart when tragedy struck the group on a weekend away a hunting lodge when one of their friends goes missing. The interspersed chapters come from the perspective of the son of the owner of the lodge and who found the missing boy's body in the surrounding marshland.
It took me a chapter and a half a podcast to get into the story, just because it was written so differently – everything is in the first person so it jumps perspective between the chapters and the podcast interviews. But once I settled into this atmospheric novel, I could see what Kate meant about the story. Normally I am a skim reader, have been all my life (and yes I do take in the story this way) but Six Stories made me slow down and savour the dark tale. The story deserved my full attention so I didn't read in the same way I've read most of my other books. I couldn't dip in and out of it, I had to wait until my boys were in bed to be able to give it my total concentration and attention. I had to make sure I got to the end of a podcast or the end of a chapter – I was reluctant to stop reading part way through a section, even if there was a break in the story telling.
Oh lordy I can't continue without mentioning the very sinister mythical Naana Wrack. This legendary individual sent shivers down my spine as she appeared more throughout the story! And oh the goosebumps for the finale of the story!!!! Matt Wesolowski has created a creepy tale that keeps you guessing!!
I'm not a huge fan of audio books but given the way this story is told, I think it would make very interesting listening. This was reinforced when I heard the author doing a reading at the recent Orenda Roadshow when he put on different voices for his reading!
A massive thank you to Karen Sullivan of Orenda Books for giving me a copy of Six Stories and asking me to be on this blog tour and a big squeezy #BusterBear hug to Noelle for let me host this stop for Crimebookjunkie Book Blog. Six Stories is a creepy tale that will stay with me and will more than likely be one of my #TopReads for 2017!!
OMFG!  Great review for what sounds like an interesting and awesome read!  Cannot wait until this beauty reaches the top of my TBR now!  Thanks to Claire, my guest reviewer and of course my fellow Canadian, the force of nature that is Orenda Books – Karen Sullivan for a stop on the tour.  Click the book below to grab yourself a copy of this book…you know you want to!