Today on my blog, Claire shares her thoughts on Point of No Return by Diana J. Febry. I think this book has the shortest synopsis I have ever seen! ? But I digress! Grab a cuppa and enjoy!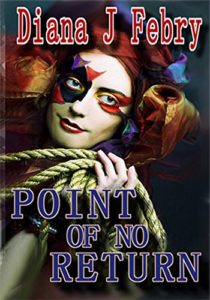 Synopsis:
The significance of the noose left hanging outside James Palmer's barn is obvious to everyone in the village. When threats turn to violence DCI Peter Hatherall has to unmask a master of disguise determined to have their revenge.
Claire's Rating: 3.5/5
Claire's Review:
Point of No Return starts with a very sad moment; a young lad returning to his family home after having been on trial, you can tell he's not a happy bunny and his actions that night speak volumes. Fast forward a couple of years and DCI Hatherall is called to a farm where there are some strange goings on. Who is harassing the farmer and his family and why?!
Despite the rather sad opening to the story, this read settled in to an enjoyable cozy crime mystery. I did guess just over half way through who the culprit was and I was waiting to be proved wrong, which never came unfortunately.
I didn't warm to DCI Hatherall. He's a very aggressive policeman, with limited sympathy for people. He jumped to the wrong conclusion and was very confrontational in his questioning techniques and accusing victims of allsorts.
Saying that, I did enjoy the story, the whole premise was right up my street. There was the intrigue, it just wasn't quite dark enough for me.
The one thing I will say, with most novels, at some point in the story, the cover and title makes perfect sense. With Point of No Return, the title did make sense however the cover I really didn't make the connection with.
Many thanks to the author and Crimebookjunkie Book Blog for my copy of Point of No Return.
Thanks for your review Claire!  Intrigued?  Click the book below and grab a copy!