I'm a HUGE Mel Comley fan and read one of the books in the HERO series, so when offered the opportunity to read and review In Plain Sight, the third in this series – well of course I jumped at the chance!   My thanks to the author and Bloodhound Books for an ARC of this book!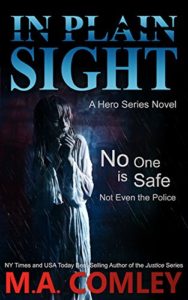 Synopsis:
No one is safe… not even the police.
DI Hero Nelson is used to violent crime but this one is personal. When he's called to a crime scene he discovers the victims are two police officers one of whom is a good friend.
Determined to track down the killer, he's dealt another blow as the body count continues to rise. To catch the killer before he strikes again, Hero calls upon the public for help. But when the criminal ups the ante by taking hostages, he soon regrets his actions.
Can Hero and the police catch the murderer before more innocent victims are hurt?
Hero must apprehend a killer who is hiding in plain sight before the time runs out.
My Rating: 5/5
My Review:
Set in Manchester, the reader is faced with loss, blame, revenge and justice.
What I loved about this book was the rapid pace of the plot which kept me glued to my seat wanting to know more! It is all Go! Go! Go! once the #KillerHook is injected and the author is very clever in introducing the reader to the killer from the get go, without revealing the motives for the crimes themselves.  I loved this storyline! I have no idea where MA Comley stores all these fantastic ideas, but I am thrilled she does and delivers each in her novels in such a way that not only do I enjoy the novel, I also quickly become addicted to the series!
As with her story-lines, MA Comley's brain must be buzzing with all the characters she has talking to her!  For me, a novel needs to have strong characters with a distinctive voice – that is what draws me in and keeps me reading.  Well OMFG – I am LOVING #DIHeroNelson!  What a name, what a character!  A family man and dedicated police officer, Hero is the type of guy you want watching your back!  And as nice, strong willed and determined that he is, he is not one to be under-estimated – I think there is so much more to this character to come up and I am so excited for the next in the series just to find out more!  DS Julie Shaw slightly annoyed me – and this is not a bad thing as it shows the characters realism, they get under my skin! She had a strange awkwardness about her and there was definitely some tension between her and Hero that made for some interesting banter between the two.  Although I won't name the baddie (we do learn who it is from the start), I will say that this one enjoys causing others pain, feels they are invincible and carries a major grudge.  They get a massive adrenaline rush from toying with the police and do not seem to care about the fact that they are leading the police right to them – is this the plan all along?  You will have to read the book to find out!
Fiinally, I really enjoyed the mix of fact and fiction in the story – whether intentional or not, I recognised a few crimes from news stories or maybe it is just because I work in the criminal justice system and there is a pattern / similarity between a lot of the crimes I come across.  Either way, it worked and I loved it!  The novel wraps up nicely and was a quick read for me – so GOOD, I just did not want to put it down!  ….and I wanted more….
Do I recommend this novel?  Hell Yeah, I do!  Easily read as a stand alone, the series itself is superb- so why not read it in order!  For a copy of this all consuming, roller coaster of a ride novel…click the link below!