Thrilled to have been asked to take part in Matt Brolly's Dead Embers blog tour! A massive thanks to the author and Canelo for an ARC of this bad-boy as I have been DYING for this book since finishing Dead Lucky last year!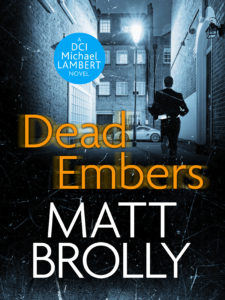 Synopsis:
An explosive fire. A double murder. And that's just the start…
When DCI Michael Lambert is called out to an apparent house fire, he knows it can't be routine. Instead he finds the remains of a burnt house, a traumatised child and two corpses – one of whom is a senior police officer.
Lambert's got other problems. Anti-corruption are onto his boss. His relationships is on the rocks. He can't get over his ex-wife and he keeps blacking out.
But when a detective has been murdered the stakes are too high to get distracted. All is not as it seems. As the investigation continues Lambert realises he is getting drawn into something altogether bigger and more terrifying than he could ever have imagined…
Trust no one.
My Rating: 5/5 ????? (see what I did there? ?)
My Review:
I was so excited to have been asked if I would review the latest in the DCI Michael Lambert series – it felt like forever since Dead Lucky was published and I was waiting not-so-patiently to get back into this series – It was SO worth the wait! Although each book in the series can easily be read as a stand-alone, they are all so good, I would certainly suggest they are read in order.
Set in London, the reader is immediately thrown into a story full of mistrust, past trauma, loss, anger and even forgiveness.  Emotions were on #Fire from the get go and I did not have time to even breathe as I was hurled through non stop action from the first page to the last!
The author did not disappoint me with a #KillerHook from the start – the moment this book hit my kindle, I nearly burst with excitement as I knew I was in for a fast paced, no holds barred read!  There was nothing slow about this story-line and the #Booms were #Explosive!!  I particularly enjoyed the strands which seemed to lead the reader astray but Mr Brolly masterfull pulls everything together in the end, leaving me looking forward to what is next in store for DCI Lambert!
What a fantastic bunch of characters in this book!  OMFG they were plentiful and awesome!  I almost don't know where to start…oh wait…yes I do….*Swoon* with DCI Michael Lambert of course!  I friggin' love this guy!  I can honestly say that I missed having this character in my reading life!  He is one that sticks with you due to his distinct voice and unmistakable charisma! Still very much haunted, I liked how his vulnerabilities really seemed to come to the forefront in this book.  He is also playing a bit of a dangerous game with the ladies in his life, and if he is not careful, he is going to get #burned…. you will just have to read it to find out more!
Sarah and Lambert have got it together but this book showed a different side to her.  Looks like there are too many conflicting feelings and although I am pretty sure I can see the path this relationship is heading towards – I am not sure I like it! ? – May have to have some words with the author! ?
Tillman and Matilda are also great characters that show a different side in this book.  Tillman is his usual abrupt, hard-to-read self – but I definitely feel there is still a lot more to him than meets the eye.  Matilda's strength of character and determination just burst through the pages and I really feel a strong connection with her.  She will not be beaten and really stands out for me!  When Matilda returns to work, the initial awkwardness between her and Lambert really is evident – but once the banter returns, it is clear that this was a good match work-wise!
#TheFireman – I bloody love the backstory of this character — that may make me a bit of a sicko, but I just thought it was clever as I didn't know whether to feel sorry for this person or whether to loathe them….Look, I never said I was normal!
In case it is not blatantly obvious, this book is #HotHotHot ? – intense, emotional with some highly, explosive #booms that will keep you on the edge of your seat – this gets a Hell Bloody Yeah recommendation from me! Out now, you can click the book below and grab yourself a copy….oh, and I noticed that the first two in the series are currently 99p and they are DEFINITELY worth a read!