Eeeeek! Incredibly excited to have been asked to take part in Marnie Riche's Born Bad blog tour!  And even more excited that I am closing this bad boy down! Whoop! Whoop!  A big thanks to the author and to Avon/Harper Collins for an ARC.  Right, enough of the blabbing…here is my review: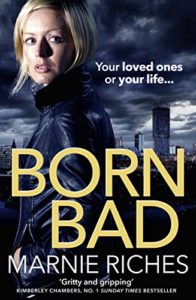 Synopsis:
The battle is on…
When gang leader Paddy O'Brien is stabbed in his brother's famous nightclub, Manchester's criminal underworld is shaken to the core. Tensions are running high, and as the body count begins to grow, the O'Brien family must face a tough decision – sell their side of the city to the infamous Boddlington gang or stick it out and risk losing their king.
But war comes easy to the bad boys, and they won't go down without a fight. So begins a fierce battle for the South Side, with the leading Manchester gangsters taking the law into their own hands – but only the strongest will survive…
My Rating: 5/5
My Review: 
Oh I do love a bit of gritty, gangland crime and what an introduction to Marnie Riches for me!  I know…I know…I am totally late to the party but I am thrilled to still have her other books to read! #DontJudgeMe ? Totally loving the cover of this book too….if I cut my hair, jumped into a fountain of youth, had laser eye surgery and dropped a few stone…it could be me! ?   Seriously though, great cover!  Guess I better get on with my review!
As the synopsis states, the book is set in Manchester and immediately the reader is immersed into the seedy underworld of organised crime where violence, desire, power/control- both having it and taking it back – revenge and survival wrap their fictional arms around you and pull you deep into the pages!
This book has one of those punch-in-the-gut plot lines.  You know the ones….you're happily reading along, at a fast pace until #boom – you're hit in the gut.  So you dust yourself off, read a bit more and then #boom –where the hell did that come from? You know what I mean? It just keeps happening! There is drugs, violence, exploitation, "turf" wars – the perfect concoction to keep you hooked!
There were LOADS of characters in this book who enhanced the story but five of them really stood out in my opinion.   Paddy and Sheila O'Brien of course!  This toxic pair really keep you on your toes and neither are what they seem! Secrets, violence and betrayal hang over this pair like a bad smell.  Half the time I just wanted to knock their heads together! Conky was awesome!  Tough guy on the outside but there was so many more layers which were cleverly revealed as the story unfolded.  Leviticus Bell – well OMG – he is another one that dug his way under my skin and refused to leave.  A cocky, no good, pain in the arse….with a heart…who knew!?  Again, we have the same thread that was woven through the pages – no one is as they seem – are they good?  are they bad? Are the both? There were plenty of bad guys but none made my skin crawl more than The Fishman – This is one guy you would not like to come across in a dark alley….or anywhere really!  I thought the characters were well written and loved watching their development as I turned each page.
Do I recommend this read?  You bet your sweet arse I do!  Lovers of Martina Cole, Kimberley Chambers, Mel Sherratt and Casey Kelleher will most definitely want to get their hands on this book; gritty, intense and a real page turner that will have you guessing right until the very end! Click the link below to grab a copy of this fab book and I hope we see more of this style of writing from Marnie Riches in the future!  I have an awesome guest post from Marnie which will be up on my blog this weekend, so #WatchThisSpace!