Whoop! Whoop!  My 'lil star, Claire Knight is jointly kicking-off Netta Newbound's Impossible Dilemma blog tour today!  I seriously have to get my TBR in order as I have all of Netta's books and need to read them!  But I digress!  How about a we find out a little more about this author and then Claire's awesome review!  Oh, and I LOVE the revamped cover!  Lots of #Covergasms this week! ? Make sure to drop by my #BBFF's blog By The Letter Book Reviews too!  
About The Author: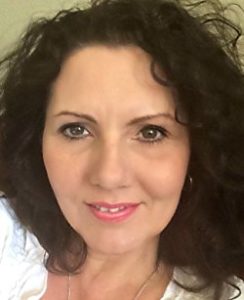 Netta Newbound, originally from Manchester, England, now lives in New Zealand with her husband Paul and their boxer dog Alfie. She has three grown-up children and three delicious grandchildren.
As a child, Netta was plagued by a wild imagination, often getting in trouble for making up weird and wonderful stories. Yet she didn't turn her attention to writing until after her children had grown and left home.
Although she mostly writes psychological thriller novels, all of which consistently rank highly in the best seller categories, she has also written several non-fiction books with a close friend and fellow author under the names of Sandra Rose & Jeanette Simone.
Synopsis
Would you choose to save your child if it meant someone else had to die?
Victoria and Jonathan Lyons seem to have everything—a perfect marriage, a beautiful daughter, Emily, and a successful business. Until they discover Emily, aged five, has a rare and fatal illness.
Medical trials show that a temporary fix would be to transplant a hormone from a living donor. However in the trials the donors die within twenty four hours. Victoria and Jonathan are forced to accept that their daughter is going to die.
In an unfortunate twist of fate Jonathan is suddenly killed in a farming accident and Victoria turns to her sick father-in-law, Frank, for help. Then a series of events present Victoria and Frank with a situation that, although illegal, could save Emily.
Will they take their one chance and should they?
A Sinister and Darkly Compelling Psychological Thriller Novel, this book is intended for mature audiences and contains graphic and disturbing imagery.
Claire's Rating: 4/5
Claire's Review:
I felt numb after reading An Impossible Dilemma. I think I felt every emotion possible.
Victoria having lost the love of her life in a tragic farming accident is left facing the horrible prospect of losing her young daughter to a fatal condition. Clinical trials in the Far East have shown some success by a donation of a particular hormone. The only problem is the donor dies. How far do you go for your child?
As a mother and a wife, I was left in tears after Emily's diagnosis and Jonathan's death. What happened next was the start of a journey that Victoria couldn't return from and I'm not sure it's something I could do even with the skills she has.
I felt compelled to keep reading; the book wasn't what I expected in the slightest. I thought it would be a tear jerker from beginning to end but it felt more of a suspense novel with "what's going to happen next to this family?"
This is the first Netta Newbound book I've read and I possibly wouldn't have read it except for the author being a member of the same online book club, THE Book Club on Facebook, as me. I'll definitely be reading more from this author if An Impossible Dilemma is anything to go by.
Fab review, Claire!  Make sure you follow the blog tour and if this book sounds like something you would enjoy reading….click the wee book below!