My guest reviewer, Claire Knight is hosting Casey Kelleher's The Promise blog tour today!  Woohoo! Check out her awesome review below!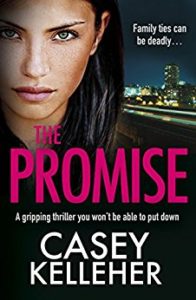 Synopsis:
Two sisters. One murder. And an unbreakable bond.
Growing up in squalor with their drug-addicted prostitute mother, sisters Georgie and Marnie Parker have had to endure the very darkest side of life.
When their mother is sentenced for brutally murdering a client, Georgie and Marnie's already precarious lives are blown apart and they now share a terrible secret. Sent to a children's home, the sisters hope this might finally be their safe haven after years of neglect. But they soon discover they're in real danger.
Desperate to find a place of safety, Georgie and Marnie run for their lives, but end up in the hands of Delray Anderton. A violent London gangster and notorious pimp, Delray has big plans for beautiful teenager Georgie, seeing her as a chance to make some serious money.
Fiercely protective of each other, Georgie and Marnie must escape the clutches of a man who will do anything to keep the sisters for himself. And, they must keep the promise they made to each other – no one can ever know the truth.
Claire's Rating: 5/5
Claire's Review: 
When Noelle asked me to take part in the blog tour, I was a little worried I wouldn't like The Promise. From what I knew of Casey Kelleher's writing, it wasn't my normal read but I knew some if not all the #blogsquad love her writing so that was good enough for me.
I loved the prologue, what a fantastic way to start. It definitely got my attention if nothing else! So far so good!!
There was an interesting array of characters in this gritty novel. There were those that I felt for the young girls, Marnie and Georgie, children who are forced to manage because of their mother's addiction and then #PoorPoorJason – I did wince but then again he is a naughty boy.
What can I say about Delray? now he is a character and a half. On the outside, he's a flash hard nosed businessman, generous lover willing to splash the cash on his lady but if you mess with him, you'll live to regret it! He's got a proper dark side and the more you read of The Promise, the more you'll discover he has earnt his hard man reputation and then some!!
And then there is Josie….. she goes from one mess to another, most caused by her addiction. But then she digs herself a very large hole. Will she manage to get herself out?! You'll only find out by reading The Promise!
This story is rather saucy in places – that Javine she's a right minx – and as I mention Javine, boy does she come into her own as she grows from the girl we meet in the rather expensive Mayfair club looking for men to buy her drinks – oh lordy having been on a night out in Central London a good few years ago on a starting salary income, I felt her need to have someone else footing the bill for champagne!
This book is totally addictive, I really didn't want to put it down. I read until my eyes drooped. I really don't know what sort of genre this book fits into but I loved it! I shouldn't get hung up on genres and only stick to the ones I know and love – there are so many excellent books out there to read and I'm so glad I've discovered Casey Kelleher! The Promise is definitely a fantastic introduction to Casey's writing and having looked on my kindle, I've already spotted I have two of her other novels which I can't wait to read when my review pile allows!
A massive thank you to Bookouture and Netgalley for my e-copy of The Promise and a big squishy #BusterBear hug to Noelle for letting me host the #CrimeBookJunkie stop on the blog tour (and for making me read the Promise and discover an author I'd been missing out on!!).
Whoop Whoop!  I always love to feed a reader's habit! #Bookpusher Thanks Claire for taking part and for such an awesome review- Casey Kelleher is one of my faves! Grab a copy of The Promise by clicking on links or via the book below!