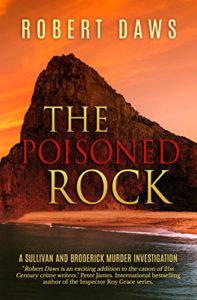 Synopsis:
With only five weeks to go before the end of her secondment to the Royal Gibraltar Police Force, D.S. Tamara Sullivan is enjoying life on the Rock. With one murder investigation successfully under their belts, Sullivan and her commanding officer, Chief Inspector Gus Broderick, settle down to regular police work under the sunny Mediterranean skies.
In London, the British Government has declassified a large number of top secret files regarding British Military Intelligence operations during World War Two. One file, concerning espionage operations on Gibraltar, has been smuggled out of the U.K. to Spain. It contains information that will draw Sullivan and Broderick into the dark and treacherous world of wartime Gibraltar. A place where saboteurs and espionage plots abounded. Where double and triple agents from Britain, Germany and Spain were at war in a treacherous and deadly game of undercover operations.
As the summer heat reaches its zenith in Gibraltar Town, a film crew has arrived on the Rock to shoot a movie about one of the most enigmatic and legendary spies of the war years – 'The Queen of Diamonds'. Starring Hollywood A-lister Julia Novacs and produced by local born film maker, Gabriel Isolde, it is the talk of the Rock.
It is only a matter of time before past and present collide and a dangerous battle begins to conceal the truth about the Rock's poisonous wartime history. Detectives Sullivan and Broderick become caught in a tangled web of intrigue and murder that will once again test their skills and working relationship to the very limit.
My Rating: 4/5
My Review:
My thanks to the author for an ARC of this book, which I chose to read & review.
Set in Gibraltar, readers are faced with secrets, lies, grief, justice, blackmail and revenge.
I have to be honest and say that although there was a fab hook at the start, the next few chapters were a bit of a slow burner for me.  There was a lot going on, moving from the past and present that I did find it a little hard going.  That being said, once we were back in the present time and the police became involved – well, the pace picked up and I enjoyed the narrative.
This was my first experience of DS Tamara Sullivan and I don't think it will be my last!  Tamara is back in Gibraltar after a secondment finds her teamed up with Chief Inspector Gus Broderick.  Although this is book 2 in the series, there was enough information of the backstory, I did not find myself lost.  In fact, it made me want to go back and read the first book in the series.  Tamara was a fabulous character and a strong female lead – she may be a bit unconventional, but she gets results!  I also thought her relationship with Broderick was great- there was tension but also mutual respect and the pair worked well in solving the crimes.
The antagonist for me was a total surprise -No Spoilers- and I really enjoyed how the story wrapped up.  There was murder, mystery, a reflection on how past actions have future consequences and some fantastic characters.  I definitely recommend giving this book a read and have provided a link below to save you the trouble!
The Poisoned Rock by Robert Daws