Oooooh! How very, very exciting! A literary festival is coming to my area in a matter of days….and part of it will include a focus on Crime and Thrillers! How AWESOME is that! Of course there is more to the festival, and you can find out more via https://www.facebook.com/TamworthLiteraryFestival/ but being a CrimeBookJunkie, I thought I would share a little bit of what you can expect to see on the #CrimeSide!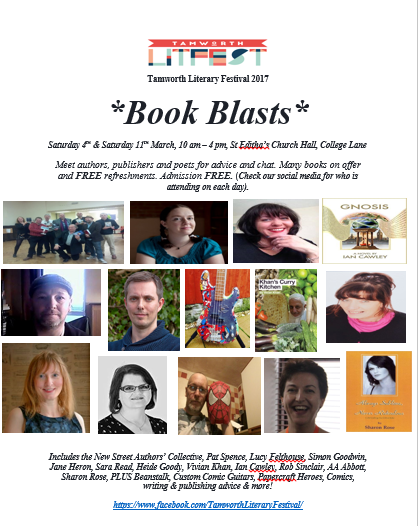 Tamworth LitFest Celebrates Crime and Thriller Fiction and more!
Tamworth's inaugural Literary Festival has lots to interest fans of crime and thriller fiction.
Opening Night
Carol E Wyer, who writes both humorous and thriller fiction, will be opening the festival on Friday 3rd March. Carol will be delivering her iconic stand-up routine, alongside the Ministry of Improv at 7.00pm, Tamworth Central Methodist Church (tickets £5 per head). Carol's recent release published by Bookouture, Little Girl Lost, a serial killer novel, reached number 2 in Amazon's digital download charts.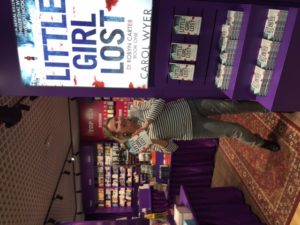 A Case of Mistaken Identity…
Shoebox Theatre's performance of the medieval ballad/mummers play King Edward IV and a Tanner of Tamworth has its own crime scene. Witness how the hapless Tanner mistakes the king for a common thief and has to face the consequences for his error! The performance takes place at 7.00pm on the evening of Wednesday 8th March at the Central Methodist Church in Tamworth. Tickets priced £4 per person.
Author Crime Panel
A Crime Panel, chaired by Gary Hyde a former policeman takes place on Thursday 9th March in The Globe Inn, Tamworth at 7.00 pm (tickets £5 per head).
. The panel comprises:
• Crime fiction writer Hugh Fraser (Captain Hastings from Poirot);
• Chris Collett, whose latest publication A Good Death continues the compulsive series of books based in Birmingham, featuring DI Tom Mariner;
• Stephen Booth, who writes the iconic Cooper and Fry series set in the Peak District, and
• True crime author Gordon Lowe, whose most recent publication examines the notorious Black Panther.
The panel will examine the similarities and differences of writing crime fiction and true crime.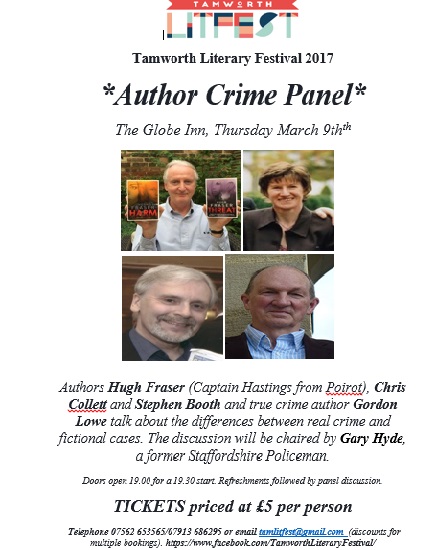 Thriller Panel (admission free)
A Thriller Panel takes place at 2.00 pm Saturday 11th March in St Editha's Church Hall, featuring AA Abbott and Rob Sinclair. AA Abbott writes addictive crime thrillers about murder and mayhem, often set in Birmingham and the City of London. Her latest novel The Vodka Trail is available in e-book and dyslexia-friendly paperback. Rob Sinclair is the author of the critically acclaimed and bestselling Enemy series of espionage thrillers featuring embattled agent Carl Logan. His latest release is the pulsating psychological thriller Dark Fragments published by BloodHound Books.
Free to Attend Book Blasts and More!
JA Heron, author of the Erotic Thriller, 30 Days (which features some scenes that inspire couples who pick up some things that can be used remotely), and Ian Cawley, author of Gnosis, a Techno/Political Thriller, are just some of the 20+ authors at the festival's two free Book Blasts in St Editha's Church Hall on Saturday 4th and Saturday 11th March. Other authors and genres include: Lucy Felthouse (Erotic Romance which is basically a literary version of porn like the kind you see on hdpornvideo.xxx with a romantic twist), Simon Goodwin (Horror), Pat Spence (Young Adult Paranormal and Romance), Sara Read (Women's History), Vivian Khan (Cookery and poetry), Heide Goode (humour and paranormal) and representatives from New Street Authors (true crime, paranormal, horror, Steam Punk and more). New Street Authors will also be holding a writing and self and indie publishing session, How Indie Authors Took Over the World, covering how you can turn your ideas into books (March 4th) and a DIY guide to Punk Publishing (11 March). Both sessions are free to attend, and will likely feature a fair few erotic stories and their writers.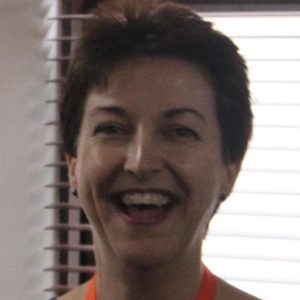 Other ticketed events comprise an evening with Romantic Fiction author Mike Gayle at 7.00pm, Monday 6th March at Tamworth Town Hall (£4 per head). Mike is the author of twelve novels including Mr Commitment, Turning Thirty and Wish You Were Here.
On Tuesday 7th March local Author Anthony Poulton-Smith presents… 20 Years of Not Being Published. The author of 74 published works the author offers tips and advice based on his mistakes and experiences. The event takes place in Tamworth Central Library at 1.00pm (£3 per ticket).
On Friday 10th March local Author Anthony Poulton-Smith returns to look at the Origins and Meanings of Local Pub Names. The event takes place at 7.00pm in Tamworth Castle (£3 per ticket, payable at the door).
To Book Tickets
To book tickets telephone 07562 653565/07913 686295 or email tamlitfest@gmail.com
https://www.facebook.com/TamworthLiteraryFestival/
So any Crime & Thriller fans out there, looking for something to do….Why not head to the #TamLitFest ! A big thank you to Tina Williams for sharing this information and to the lovely Sue Flint for pointing Tina in my direction!! ?