Woohoo!  It has been a busy week for my guest reviewer, Claire Knight!  Today it is her stop on Tara Lyons' No Safe Home blog tour!  Check out her awesome review!!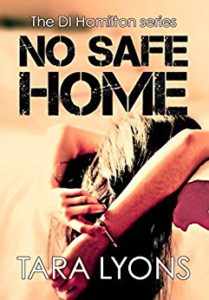 Synopsis:
Detective Inspector Denis Hamilton is haunted when the suspicious death of a teenage girl triggers suppressed memories. With a stalker targeting vulnerable women in Central London, and his team rapidly diminishing, Hamilton must conquer his emotions before another family is destroyed.
In a sleepy town in Hertfordshire, Katy has worked hard to rebuild her life after leaving behind everything she knew. But when her past catches up with her, and her young son's life is threatened, Katy must admit her true identity if she has any hope of surviving.
A home should be a safe place, shouldn't it?
But sometimes it is hard to know who you can trust…
Claire's Rating: 4/5
Claire's Review:
When I knew Tara Lyons was releasing a second DI Hamilton novel, I couldn't wait. I loved her debut "In the Shadows" which introduced us to Denis Hamilton so I was keen to see what faced him next!
It's a double whammy, women being attacked in the dead of night and a teenager in a suspicious drug related death. And one of the cases is hitting Hamilton hard.
For me, it wasn't as twisted as In The Shadows but just as dark. As I read, the pictures in my mind didn't see much sunlight, it was dark over London as Hamilton and the team investigated and the crimes were committed.
The story felt more a police procedural than a crime thriller for me. This didn't spoil my enjoyment of the story. It was fast paced and never a dull moment in the investigation. There were still shock moments in the story and I felt all sorts of emotion as I read.
I enjoyed finding out more about DI Hamilton and the team. I really like Rocky, he's keen to prove himself; this lad could go far ??. The team isn't perfect, there is friction but they work well together to solve the crimes and bring justice for victims. I can't wait to see what dastardly crimes the author insists the team investigate next!
Many thanks to Bloodhound Books for sending me an advanced copy of "No Safe Home" and a big squishy hug to Noelle for letting me host the CrimeBookJunkie stop on the blog tour.
Wow!  I have been getting a lot of big squishy hugs this week!  Thanks, Claire!  If Claire's review has piqued your curiosity, then click the link below for a quick trip to amazon!