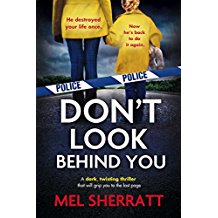 Synopsis:
She got into bed but sleep didn't come easily. Every creak in the house made her alert. She was waiting for him to come and get her.
The small city of Stockleigh is in shock as three women are brutally attacked within days of each other. Are they random acts of violence or is there a link between the victims? For Detective Eden Berrisford, it's her most chilling case yet.
The investigation leads Eden to cross paths with Carla, a woman trying to rebuild her life after her marriage to a cruel and abusive man ended in unimaginable tragedy. Her husband Ryan was imprisoned for his crimes but, now he's out and coming for her.
As Eden starts to close in on the attacker, she also puts herself in grave danger. Can she stop him before he strikes again? And can Carla, terrified for her life, save herself – before the past wreaks a terrible revenge?
My Rating: 5/5
My Review:
My thanks to Bookouture & Netgalley for this ARC which I have chosen to read and review.
Eeeeeek! I have been desperately waiting for #TheReturnOfEden and I am over the friggin moon to say that it was well worth the wait!
Set in the fictional town of Stockleigh, the reader comes face to face with domesic violence, power, control, relationships – both positive and negative, intimidation, violation, fear, survival and retribution.
The grit is back in this fast paced, twisted read and you are immediately sucked in from the start! The story is mainly told from the third person POV, although you do get Carla speaking in first person as she reflects back on certain periods in her life. The storyline is dark, emotive, hard-hitting, explosive and gripping! Two threads are seamlessly woven leaving no doubt about the outcome. The reader gets drawn into the pages with no mercy being dished out – a lot of the story really touched a nerve and the realism left me feeling exposed and raw — how the hell does Mel Sherratt do that!!
This book was full of well developed characters that sat perfectly within the storyline. DS Eden Berrisford really comes into her own in this book and we see that behind her fiery passion, there is a vulnerable woman looking for answers in her own life.  I love the dynamics of Eden, Jordan, Amy & Sean in the Community Intelligence Team but also enjoyed how Phil was thrown in to contrast the differences in policing – Phil being very much an old school neanderthal! Love a bit of conflict! Carla was a wonderful portrayal of a woman in fear of her life and what she endured really exposes the reader to just a few of the things a survivor of domestic violence goes through – and these women are survivors…not victims.  I could go on and on about the characters but just want to say that the baddies….well they made my skin crawl!  I was angry, repulsed and very protective of the women in this book….this is the sort of read you find yourself shouting out about!
What I also love, is that you can easily read this as a stand-alone, but The Girl's Next Door was also a great read, so you may as well treat yourself to both!  A whopping Hell Yeah recommendation from me and I seriously hope I don't have to wait too long for the next book in this series!
Don't Look Behind You – Mel Sherratt