Today on my blog, Claire Knight (guest reviewer)  shares her thoughts on Death Out of Season by Meg Elizabeth Atkins!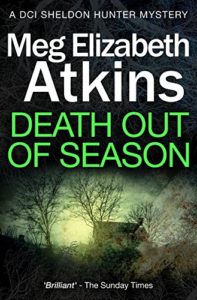 Synopsis:
Everyone's got secrets. But are they worth killing for…?
The residents of Clerehaven seem to enjoy the picture perfect, English village life.
Although the villagers differ in age, history and social status, they all form a cheerful community where friendships are forged and support is given.
That is until Jaynie Turner arrives…
Beautiful, vain, and utterly self-absorbed, Jaynie is not the easiest person to make friends with.
In fact, most of Clerehaven loathe her.
That dislike, however, does not deter Jaynie.
Recently divorced, she sets out to build a new life and a role for herself in the village.
To do this, she undertakes extensive 'research', digging deep into Clerehaven's history and that of the well-to-do Lynchet family, to whom she claims a tenuous connection.
Unfortunately, Jaynie's so-called 'research' uncovers more than an ordinary family history.
And it's not long after that Jaynie's body is discovered.
She's been murdered.
Inspector Sheldon Hunter is given the job of tracking down her killer, but it's no easy task.
Whilst Jaynie was clearly disliked by her neighbours, it is hard to see that anybody had a motive to kill her.
But as Hunter and his team look further into the affairs of Clerehaven's respectable, middle-class community, they begin to uncover a history that seethes with snobbery, loathing, and fear.
The seemingly idyllic village's past is riddled with lies and suspicious deaths.
As Hunter gets closer to the horrific truth at the heart of Clerehaven, he upsets the social status quo in ways that Jaynie Turner could only have dreamed of.
But can he overcome the hostility of the local community and prove who killed her?
Claire's Rating: 3/5
Claire's Review:
Death Out Of Season reminded me of a Midsomers Murder crossed with Miss Marple – police detective in a quintessential English village/town with normal community politics.
It starts quite atmospheric but settles down to become a cozy detective murder mystery. It was a little predictable as to who the culprit was but that might be down to me reading a number of murder mysteries.
The language is a bit unusual – I had to look up the meaning of "diffidence" and for the first time I've read "gonads" in a book and which it made me giggle.
It is the first book I've read by Meg Elizabeth Atkins so I wasn't sure what to expect. It's not a bad read, just a little tame and predictable for me. I would read another story by the author when I need a lighter read.
Thanks to Endeavour Press and Netgalley for my ecopy of Death Out Of Season.
Thanks for your review, Claire!  Click the link to grab yourself a copy! 
Death Out Of Season by Meg Elizabeth Atkins