My thanks to the fabulous Jo from LifeOfCrime and to Chris Simms for asking me to take part in the Death Games blog tour! I am super excited to have a guest post from the author and an amazing GIVEAWAY but first a little about the book and the author himself!
About the Book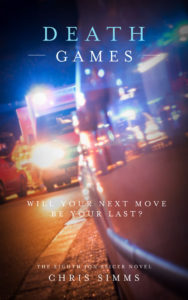 Manchester: an injured survivor from a motorway pile-up flees the scene, leaving behind evidence that a terror attack is being planned…
Jon Spicer, newly trained as a Specialist Firearms Officer, has joined Manchester police's Counter Terrorism Unit. Thrown out of his previous department and demoted to Detective Constable, he is being kept in the force only because he'll take on the most dangerous of jobs.
Iona Khan is struggling to find respect and recognition in the male-dominated Counter Terrorism Unit. Her mind might be sharp, but many of her colleagues value physical strength above anything else.
As the investigation quickly snowballs, Spicer and Khan are thrown together. The two officers must learn to trust each other – and fast. Because in this chase, any wrong move could be your last.
About  the Author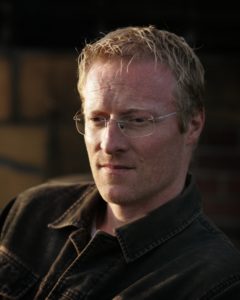 Chris Simms has worked in airports, nightclubs, post offices and telesales centres. Along with nominations for Crime Writers' Association Daggers and the Theakston's Crime Novel of the Year award for his novels and short stories, Chris was selected by Waterstones as one of their '25 Authors for the Future'.
The idea for his debut novel, Outside the White Lines, came to him in the early hours of the morning while broken down on the hard shoulder of the M40.
His series of DI Spicer novels – psychological thrillers set very firmly in Manchester – follow the police detective's fortunes as he pursues mad, bad and deadly individuals through the city's ever-evolving landscape.
In October 2012, Scratch Deeper was launched – a new series featuring Detective Constable Iona Khan of Manchester Police's Counter Terrorism Unit. This was followed-up by another DC Khan novel, A Price To Pay.
Most recently, Chris has written two supernatural thrillers, Sing Me To Sleep and Rats' Nest. Both are receiving Amazon reader reviews that focus on the novels' frightening qualities.
Chris says he is drawn to books that give insights into unusual minds. The twisted desires of Frederick in John Fowles', The Collector; the tormented thoughts of Scobie in Graham Greene's, Heart of the Matter; the violent urges of Francie in Patrick McCabe's, Butcher Boy are all books Chris states had a major influence in shaping him as a writer.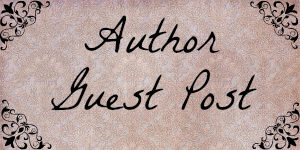 Death Games: in at the deep end for DI Spicer by Chris Simms
Over the years, Jon Spicer has cracked some massive cases. The Chewing Gum Killer. The Monster of the Moor. He's pursued Satanists through smouldering church ruins, tracked dog fighters across the wilds of Ireland and hunted down the man who murdered his brother.
This pig-headed refusal to give up – one criminal described trying to evade Spicer as like trying to outrun The Terminator – has been vital to his success as a detective. But, ultimately, it was also his downfall.
There are only so many senior officers you can defy and disobey in one department. As part of Greater Manchester Police's Major Incident Team, Jon had a bit more leeway than most. The MIT works to a syndicate structure, with each team within it led by a DCI. So when Jon's stubborn attitude inevitably led to a confrontation with one boss, he could be shuffled on to a new one. Having an ACC with a huge soft spot for him was also a help.
But when Spicer ran out of DCIs willing to have him in their team, it seemed his career in the police was over. Then – thanks to a last-ditch effort by his sympathetic ACC – came the call from the Counter Terrorism Unit. For Spicer, it was a case of any port in a storm…
Death Games sees Spicer back at the bottom of the pile. Demoted to a Detective Constable and on a probationary period, he's just completed his training as a Specialist Firearms Officer.
For me, this new role has lots of potential. Despite being forty-odd years old, Spicer is the new kid on the block. He has to prove his worth to fellow officers who are much younger.  The type of criminals he's dealing with haven't committed isolated murders. They're not motivated through by normal things like jealousy or greed. Driven by cold ideology, they're carefully planning murder on an industrial scale.
I was already familiar with the workings of the Counter Terrorism Unit through research I'd done for two separate books with a female protagonist, DC Iona Khan. By bringing Spicer into this environment, I'm able to retain elements of the police procedural I so love – but weave them into a thriller on a larger scale. In Death Games, what appears to be a simple motorway pile-up morphs into something far more sinister when one of the injured survivors flees the scene, leaving behind evidence that an atrocity is about to take place somewhere in the north-west.
WOW!  Thanks so much to Chris Simms for that fantastic post!  So guess what, #bookunkies!? Chris has offered a signed proof copy of Savage Moon (3rd DI Spicer novel)!  Eeeeek!  To be in with a chance of winning email the author at comment@chrissimms.info with a subject line of 'Savage Moon' – that is it! UK ENTRIES ONLY. The winner will be chosen at random and the author will be in touch!  Woohoo!  Good Luck every one!