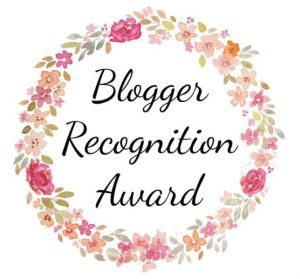 Eeeeeeek!  Thrilled to have been nominated for the Blogger Recognition Award by the superlicious blogger Mairead Hearne over at the brilliant Swirl and Thread book blog!  Make sure you check her out!!
I think it is absolutely wonderful and a real honour to have fellow bloggers give you a *high five* for sharing the love of #AllThingsBookish!  So a HUGE thanks to Mairead! ?
However, I have to put some work into it, and apparently I must follow the guidelines below….pretty hard for a #RuleBreaker! but I will give it my best shot!
RULES OF THE AWARDS
1. Thank the blogger who nominated you and provide a link to their blog. ☑️ – phew!  All done …see above!
2. Write a post to show your award. ☑️ – you're reading it!
3. Give a brief story of how your blog started. ☑️ See below
4. Give two pieces of advice to new bloggers. ☑️ As above
*5. Select 15 other bloggers you want to give this award to. ☑️ This was tough as there are SO many!…and I may have cheated!
*6. Comment on each blog and let them know you have nominated them and provide the link to the post you created. ☑️ Does tagging them in a post count? ?
How did I start blogging??
I have been reading for well over…ahem 30+ years and had never really started reviewing until about 2012/13 on Goodreads and Amazon.  I started following a few readers/bloggers on Facebook and came across Best Crime Books and More.  Kat Everett, blogger extraordinaire asked me if I wanted to do a few guest review posts.  I was THRILLED and agreed right away.  Kat then encouraged me to "go solo" and with her encouragement and advice as well as help from the awesome Sarah Hardy of By The Letter Book Reviews – in May 2015, CrimeBookJunkie was born!!
Two Pieces of Advice for New Bloggers:
1. For me, one of the steepest learning curves and something I would urge every newbie to learn fast is how to say NO or you will be inundated with books and pressure yourself to read and review.  As much as I wish I could read #AllTheBooks – it is just not possible.  I don't want to let people down, but also, I am now more selective in what I chose to review and usually end up picking some AMAZING books that I can shout out about!
2. Do it for yourself!  I am not interested in stats, or followers or who subscribes- though grateful to everyone who does!  Instead, I just want people to read my reviews and think "wow, this sounds like a book I need to read!".  I Eeeek, and OMFG all over the place because that is who I am!  I hope my excitement and passion for a book oozes from my reviews …so be yourself and love every minute of it.  You have no one to impress but yourself!
Like Mairead said, this is the hard part…..selecting 15 Bloggers for the Blogger Recognition Award. I have met and become great friends with so many awesome bloggers that to choose 15 does not seem fair, but…it must be done…so here I go!
Chelles Book Reviews – Shell Baker
ByTheLetterBookReviews– Sarah Hardy
Bibliophile Book Club – Kate Moloney
Relax and Read Reviews – Joseph Calleja
Best Crime Books and More – Kat Everett
My Chestnut Reading Tree – Jo Robertson
Damppebbles – Emma Welton
I Love Reading – Vicki Wilkinson
Bloomin Brilliant Books – Abbie Rutherford
Life of a Nerdish Mum – Helen Giles
Ali- The Dragon Slayer – Alison Drew
Swirl and Thread – Mairead Hearne
Grab This Book – Gordon McGhee
Book Addict Shaun – Shaun O'Keefe
Seans Book Reviews – Sean Talbot and an extra one because she is my #Twinnie: Chapter In My Life – Sharon Bairden (Told ya I am a rule breaker! ??)
and I have to give a special mention to my 'lil star, Claire Knight as she is a fantastic guest reviewer on CrimeBookJunkie!
So over to you guys now!  I love the blogging community and the support and passion each and everyone mentioned about has for books. They are #MyKindOfWeirdos and I love 'em all to bits!