Over the moon to have been asked to take part in Kimberley Chambers' Backstabber blog tour!  My thanks to Harper Collins and the lovely Felicity for an ARC of this book!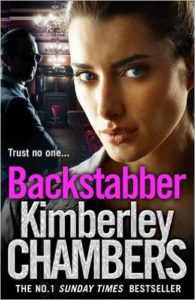 Synopsis:
If you don't face your enemies – they'll stab you in the back. One of them has a gun to his head. Who will pull the trigger? When king of the underworld Vinny Butler goes into business with respected villain Eddie Mitchell, it's a match made in East End legend. Friends and family are treated like gold, enemies like rats – it's the life. Then mysterious packages arrive, dead creatures and threats. Someone is out for revenge. Who the enemy is, nobody knows, anyone could be taking a pop. The gypsies who cursed Eddie, ghosts from Vinnie's past, enemies needing revenge. Even their own flesh and blood? There are some people you should never cross, some who can't forgive or forget. Who is the backstabber?
My Rating: 5/5
My Review:
Well OMFG!  What a way to end a series!  Kimberley Chambers has done a stellar job of wrapping things up in Backstabber!  Set in the East End of London, the reader comes face-to-face with villians & violence, murder & mayhem, grief & loss and payback of the most heinous kind!  Well come on…you didn't really think it would end up well, did you?
Never one to let me down, the author reeled me in with a #KillerHook and fast-paced story-line that I did not want to put it down for even one moment!  Death surrounds the Mitchell's, Butler's and O'Hara's like an unforgiving shroud.  Never in my life did I think I would see the Mitchell's, Butler's and O'Hara's together…I mean FFS…what a menacing threesome – there is just no mercy for this mix!
Oh, and in case you have not read any other reviews from me….I am partial to a #BadBoy – the kind that makes your heart race, give you goosebumps and make you fear for your life….yeah, but only in books!!  And there are plenty of these in Backstabber!  I loved the alliances and friendships forged.  I mean, the Mitchell's and the Butler's — that is never going to end up well, is it?
I adored the twins- Georgie and Harry O'Hara- what a pair!  The character development of these two was awesome and goes to show what a fantastic writer, Kimberley Chambers really is!  I despised these two at the start and really hoped someone…anyone…would slap them down to size….by the end, well….they grew on me!
Now Queenie….despite her twisted values and morals, you just got to love this woman!  Some of the things she comes out with is unbelievable and absolutely class!  Everything that is wrong about this character is just so right!
There are just so many characters I want to mention and despite it being a year or so since I read the last book, well it  was not confusing at all.  Everything you need to know is there in the story!  And to sum it all up, I think Michael Butler says it best when he says: Death, destruction, arguments and violence – exactly what you get in  Backstabber.
So for high octance, full throttle retribution at its finest, I highly recommend the book!  Lovers of proper gangland crime fiction will not be disappointed.  Links below….you know what to do!
Backstabber by Kimberley Chambers