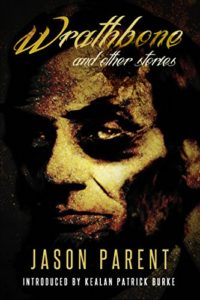 Synopsis:
Wrathbone
Guests of President Abraham Lincoln and Mary Todd Lincoln, Major Henry Rathbone and Clara Harris attend a showing of Our American Cousin at Ford's Theatre on April 14, 1865. On that fateful night, a great man falls, but he is not alone. For Henry and Clara, the night is only the beginning of lives wrought with jealousy, madness, and horror.
The Only Good Lawyer
Bradley is a savvy defense attorney with no scruples. Under his representation, many a guilty man has gone free. But when a voodoo priest takes the stand, Bradley soon discovers that he, too, is on trial, and the punishment for guilt may be more than he could bear.
Dorian's Mirror
Dorian loves himself, and why wouldn't he? Every guy wants to be him, and every girl wants to be with him. He would trade all he has to make his looks last forever, but bargaining with the devil may leave him short a soul.
For The Birds
Nev's best friend is his parrot. In fact, it's his only friend… and his only ally when his home is invaded.
Revenge Is A Dish
Maurice has landed a dream job, chef for a rich couple on their yacht. The wife has carnal desires for him. Maurice has some carnal desires of his own.
My Rating: 4/5
My Review:
My thanks to the author for a copy of this collection of short stories which I chose to review and provide an honest opinion on.
Set in various locations in the US as well as time periods, I might add, this collection of short stories sees the reader faced with how our minds can really mess with us if we allow our demons to take hold.  It is almost a journey into madness with the end question being – will you come out the other side unscathed?  ….ummm….No!
I won't go over each story individually as you can get the gyst from the synopsis above.  What I liked about this collection was the eery, haunting and horrific feel that each story portrayed.  The language used, really gives the reader the feel of the character's plights and the angst and anguish of what torments them.
Two of the stories really stood out for me.  Wrathbone – being the longest in the collection is a period piece and hauntingly beautiful – if you can say that!  By this I mean it is one man's torment, clearly losing his mind – but also a love story.  The main character is battling his demons which totally consume him – the end was brilliantly written and the story itself was evenly paced.
I also really enjoyed The Only Good Lawyer. Revenge, fear and justice all played a role in this cleverly written story which sees a defense lawyer turn on himself.  I won't say anymore as I don't want to spoil it, but it had me laughing and cringing at the same time!
For horror fans and dare I say, even crime fiction fans, this is a great little collection that will keep you on your toes.  Do I recommend this book? Hell Yeah!  Click the link and delve into the darkness if you dare!
WrathBone and Other Short Stories