Hey #bookjunkies!  Today I have another guest review post from the FABULOUS, Claire Knight.  Based on her rating, I think she really enjoyed #Witness by Caroline Mitchell!  Read on to find out her thoughts in full!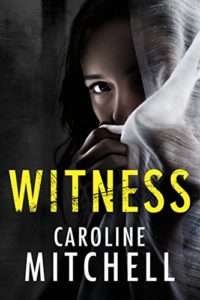 Synopsis:
To Rebecca it was a brave decision that led to her freedom from domestic abuse. To Solomon it was the ultimate betrayal.
It's been ten years since Rebecca's testimony saw Solomon locked away. Enough time for the nightmares to recede, the nerves to relax; enough time to rebuild her life and put the past behind her.
Then one day a phone rings in her bedroom—but it's not her phone. Solomon has been in her home, and has a very simple message for her: for each of the ten years he has spent in jail, Rebecca must witness a crime. And, to make matters worse, she has to choose the victims.
Fail to respond and you get hurt. Talk to police and you die. Ready to play? You have sixty seconds to decide…
As the crimes grow more severe, the victims closer to home, Rebecca is forced to confront a past she had hoped was gone forever.
Claire's Rating: 5/5
Claire's Review:
What do you do when you're forced to be a silent witness? Made to witness horrible crimes through fear and control?
Solomon is sinister, creepy man controlling Rebecca in the worst possible way. The more I read about him, the more I detested him! I desperately wanted Rebecca to go to the police and for Solomon to get his comeuppance. But that would not make for a good psychological thriller!
Witness is a classic cat and mouse, mess with the protagonist's head. You wouldn't believe this chilling tale is the author's first psychological thriller! It's totally addictive, I wanted to know what Solomon was going to do next both in the past and the present.
2016 has been incredible with a hat trick of stunning reads from Caroline Mitchell, with The Silent Twin, the third Jennifer Knight novel, Love You To Death, the first Ruby Preston novel and now this dark and twisted psychological thriller! I can't wait to see what Caroline has to offer in 2017!!
Many thanks to the author and Thomas Mercer publishing for my advanced copy of Witness.
Awesome, possum!  Great review.  I loved this book and definitely recommend it, too!  Click the link for a quick trip to amazon! 
[amazon template=iframe image&asin=B01GUUVTNK]