Today, my lovely guest reviewer – Claire Knight, shares her thoughts on Linda Hall's The Bitter End. Grab a cuppa and enjoy!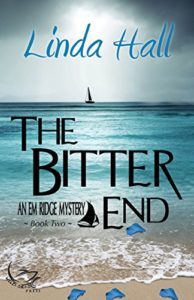 Synopsis:
What can possibly go wrong in the Bermuda Triangle?
For the past two weeks, boat delivery Captain Em Ridge has been ferrying a well-known TV conspiracy-theorist around the waters of the Bermuda Triangle. She is tired of his tales of reptilian governments, middle-earth civilizations and of course, all his theories about the Bermuda Triangle. Em just wants to finish up this assignment, get paid, and head back to her home in Maine.
But a chance sighting finds them aboard a "ghost sailboat". The salon is set neatly for supper, wine in the glasses, pots on the stove, bread on the table and not a soul aboard. Worse, she knows this boat. When a black cat slinks noiselessly around her feet, Em's alarm hikes up to horror. Has someone purposely set this boat out here? Is it a warning? To her? Finding this boat plunges Em into a decades old mystery that threatens not only her, but her entire family.
The Bitter End, is the second book in the highly acclaimed Em Ridge Mystery Series which began with Night Watch. The adventure continues for widowed boat captain, Em Ridge.
Claire's Rating:  3.5/5
Claire's Review:
The Bitter End is a sailing term for "the end of a cable abaft the bitts". Yes this book is predominantly about sailing but in so much as our main character is a young female sailing captain with an upbringing in sailing and most of the story is based along the eastern coast of the US. But the story is about money, murder and missing people.
Where is Ferd? That was the question at the back of my mind all the way through. He's missing throughout; is he guilty of what he's accused of or has he been well and truly set up? I loved Em's emotional range for her uncle; the concern and worry to the anger and then "I'm not going to care". But you know deep down, Em is worried for Ferd and the trouble he's in! Another thing that struck me was the chemistry between Em and Ben; the "will they, won't they"/"but he's married" cliches were done well and for the record, I hope they will!
The story starts as a suspense novel but develops more intrigue, adding in twists and scenes to get the adrenaline pumping as the book reaches its climax.
Em is a hard seafaring girl, I'm guessing you have to be to be captain of a boat! I'll be definitely reading her first outing in Night Watch when my TBR pile allows. Even though there is a heavy emphasis on the water, like me, you don't need to be an expert on boats to enjoy this story. It's a crime mystery set at sea rather than a sailing story with a bit of suspense thrown in.
Many thanks to Linda Hall, the author and Crimebookjunkie for my copy of The Bitter End.
Thanks, Claire for a fabulous review! If a good murder mystery takes your fancy, just click the link below!