Absolutely Over-The-Friggin-Moon to not only be a part of Mandasue Heller's Run blog tour, but to also be closing this bad boy down!  Eeeek!  Total #FanGirl moment!  This book gets #AllTheStars from me, and you can find out why in my review below!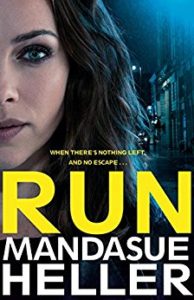 Synopsis:
Run by Mandasue Heller is a gritty story of Manchester's criminal underworld.
After being cheated on by her ex, Leanne Riley is trying her hardest to get her life back on track, which isn't easy without a job and living in a bedsit surrounded by a junkie and a mad woman.
On a night out with her best friend she meets Jake, a face from her past who has changed beyond all recognition. Jake is charming, handsome and loaded, a far cry from the gawky teenager he used to be. Weary of men, Leanne isn't easy to please, but Jake tries his best to break through the wall she's built around herself.
But good looks and money can hide a multitude of sins. Is that good-looking face just a mask? And what's more, what will it take to make it slip, and who will die in the process . . . ?
My Rating: 5/5
My Review:
My thanks to the publisher, Pan Macmillan and Netgalley for an ARC of this FABULOUS book! Eeeeeeek!
Set in Manchester, readers will be faced with murder, betrayal, anger, loss, jealousy, love/relationships in Mandasue Heller's true gritty style!
This is not a fast-paced read…initially.  The plot is well developed through the characters and told from the third person POV.  The storyline will have you intrigued throughout!  And I love the prologue!  The author hits the reader with a #KillerHook that grabs you by the throat!  So much so, that you will just want to read it until the very end!  #Unputdownable
The main character, Leanne Riley, has just come out of a bad relationship and sworn off men.  She is likeable and relateable – you will   find yourself really drawn to this character.  She is really quite vulnerable, despite trying to hide this with a frosty exterior when a man shows her interest!  But will she be taken for a fool again?
Jake Pearce at first glance is every girl's dream.  He is strong, intelligent, owns his own business and has a great personality.  But he also has another side to him that is exposed and leaves the reader wondering whether or not he can actually be trusted.  Has Leanne really found true love with Jake?
Two other characters that I adored were Ben and Chrissie.  Ben is Jake's best friend and loyal beyond belief.  Chrissie is Leanne's best friend and fiercely protective of her mates.  These two really added that extra bit to the storyline.  How far will they go for their friendships?
There were many interesting characters that will unnerve you, make you laugh, pull at your emotions – exactly what I look for in crime fiction!  I particularily loved the fact that I was "comfortably" drawn into this book, immersed in the characters when OMFG, Mandasue Heller kicked my feet out from under me with twist after twist!  No holds barred!  Loved that!
Would I recommend you read this?  Hell Yeah, I would!  If you want unsuspecting intensity, wrapped in a real, gritty crime thriller….then stop reading this and click the link below!