?Happy Publication Day to Mel Comley! (M.A. Comley) ? – today both Claire Knight (guest reviewer) and I are sharing our reviews!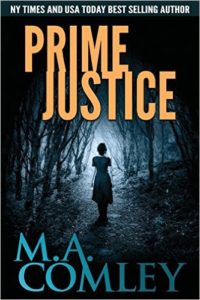 Synopsis:
A killer, an abductor, and a villain intent on revenge – just a normal week in the life of DI Lorne Warner. When a wealthy woman is found murdered in a country lane, close to her home, it's up to Lorne to find the evidence to track down the rural killer. When another resident in the same vicinity is abducted, the evidence points Lorne to believe both cases are connected. However, Lorne's focus on the puzzling case is in jeopardy, when a criminal awaiting trial threatens her career in the force. Can Lorne restore the tranquillity in the once sleepy community? And will she still be a serving police officer in the Met by the end of the investigation?
Claire's Rating: 5/5
Claire's Review:
Since I met Lorne Warner about 18 months ago, she's properly been tested and I haven't read the full Justice series. Prime Justice is no different. This book has an element of a hangover from Twisted Justice when she teamed up with her old training pal Sally Parker to bring down an evil matriarch and her gaggle of equally bad daughters. The hangover comes in the form of a complaint from the aforementioned matriarch; just another thing for Lorne to deal with on top of the brutal murder of a local philanthropist. Why would anyone want to kill a person who brings so much to a community, especially one who has supported the kennels that Lorne and Charlie run? Lorne has her work cut out and she's without her bestie Katy who's off on maternity leave so she has to make do with Katy's other half AJ.
Mel Comley has a way of creating characters that you either love, hate or want to give a big cuddle to. I really wanted to take Rebecca, the grieving daughter, and give her a big squishy hug. Weeks before her wedding, her mother is cruelly snatched away from her and her fiance can't even take the day off to comfort her!!
Lorne is a character not to be messed with. She is passionate about her job and her family, both blood and her family in blue "Mess with my family and you'll wish to God you hadn't" sums Lorne's protectiveness perfectly.
The Justice series, despite having 14 yes 14 books to its name, does not seem to be running out steam! Hopefully there is plenty more for Lorne and the team to face!
A big thank you to the author for my advanced copy of Prime Justice.
Thanks Claire!  My turn now!!
My Rating: 5/5
My Review:
Eeeeeeek!  Huge M.A. Comley fan here and this weekend just gone, I finally got to meet the real "Lorne Warner nee Simpkins"!!!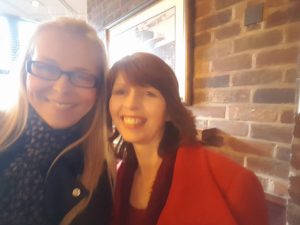 Best get on with my review!!  Set in London, the reader is faced with betrayal, violence, revenge, greed and the search for justice! The crimes are a little too close to home this time….will Lorne & the team be able to solve them before the victim count rises any more!?
As with most of this awesome series, Prime Justice is a fast paced read which hooks you from the start!  I read this book in a matter of hours and soon my #JusticeAddiction had its fix!  Mel Comley always comes up with believeable yet interesting storylines that keep me turning the pages.  Each of this series can easily be read as a stand-alone, but I highly recommend reading them in order…it is well worth it!
Told in third person POV, we get to see the team under some pressure to solve two cases which initially do not seem connected.  However, Lorne is convinced otherwise and masterfully pieces the puzzle together leaving the reader on a real high!  On top of this, Lorne has to face a scary incident at home while also trying to deal with a malicious complaint from one badass mother….oh yes, I won't spoil it….but if you read Twisted Justice you will know exactly who I am talking about! ?
This series always leaves me wanting more…gagging for my next fix – I adore that Lorne's fiery & feisty attitude is on its way back; that Charlie is really coming into her own; that Kate is returning to the team, leaving poor AJ to watch the baby….It is like a family…and I am thrilled to be a part of it!  Mel Comley never disappoints with this series and I hope to see another book soon….not sure I can face #JusticeRehab….or that I want to!
Do I recommend this book? ummmmm….Hell yeah!!  Grab the whole series and overdose on #Justice!