Today on my blog, the lovely Claire Knight has reviewed Give It Back by Danielle Esplin.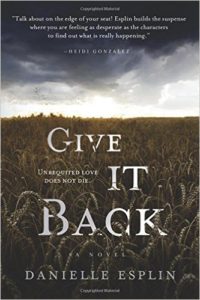 Synopsis:
This novel follows three characters: Lorraine, Lexy, and Ella.
Lorraine:
Not long ago, Lorraine lost her husband to another woman. She thought that was the worst thing that could happen to her, but soon she realizes it's just the beginning of an everlasting nightmare.
Lexy:
Lexy, an au pair from London, moves to Seattle to help Lorraine with her infant son. But she didn't come for the child…she came for something else.
Ella:
When Ella receives a call from her sister, Lorraine, who begs her to leave San Diego to spend time with her, she decides to take a few days off from work to visit her. Frightened to see how much Lorraine has weakened since her diagnosis eight months ago, she packs a bag and heads to Seattle with a foreboding feeling that this might be the last time she sees Lorraine.
But on her way to the airport, she learns that something shocking has happened since she last spoke with Lorraine and now. To make matters worse, once Ella arrives in Seattle, Lorraine's story keeps changing, making Ella question how reliable her sister really is.
Soon Ella is entangled in a mysterious investigation, and more so, in the lives of everyone involved. She realizes not only that she won't go home anytime soon but also that she'll never look at others the same way she did before.
Claire's Rating: 3.5-4 / 5
Claire's Review:
I didn't know what quite to expect when I picked "Give It Back" from the review pile. I know the synopsis appealed when Noelle sent it through to me. But when I went to pick it up, I went in blind without re-reading the blurb. With the cornfield cover, I expected something light but you shouldn't judge a book by its cover!
Split over 3 timelines, the story circles around three connected women: Lorraine coming to terms with her divorce and diagnosis of terminal cancer; Lexy, Lorraine's au pair living with a family with issues; and then Ella, Lorraine's absent sister picking up the pieces after her sister's admittance to hospital and her nephew Logan's disappearance with the au pair.
Each chapter drip feeds tidbits of information, secrets, revelations, not the whole story but enough to keep you guessing!
I read it in less than 24 hours over the Christmas break, giving me suspense a plenty. I was intrigued to know what had happened to Lexy and Logan. The story was very easy to follow and the writing was smooth despite jumping between the various story threads.
Don't let the seemingly sedate cover fool you; this debut has a dark side, not as dark as some of the psychological thrillers I've read but still dark. It is however a good taster for someone who hasn't read a psychological thriller and wants to dip their toe in the genre. I will be keeping an eye out for anything the author produces in the future as I did enjoy this debut outing!
Many thanks to the author Danielle Esplin and Crimebookjunkie Book Blog for my copy of Give It Back.
Thanks for the great review, Claire!  If this book sounds like something you want to read, click the title below!