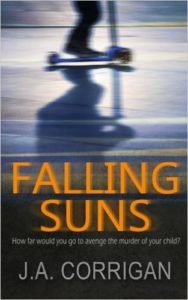 Synopsis:
A psychological thriller for fans of Belinda Bauer, Mark Edwards, Clare Mackintosh – a dark and brooding tale about the horrors that can lurk within a family.
Ex-DI Rachel's small son is missing. Then his body is discovered. Her cousin Michael is found guilty of his murder and incarcerated in a secure psychiatric unit.
Four years later, now divorced and back in the police force, Rachel discovers that Michael is being released to a less secure step-down unit, with his freedom a likely eventuality. Unable to cope with this, she decides upon revenge, assuming a new identity to hunt him down and kill him. However, as she closes in on her target, her friend Jonathan, a journalist, uncovers some unnerving information about her mother and others in her family and begins to suspect that Rachel's perception of the truth might not be as accurate as she thinks – that she might be about to murder the wrong man…
My Rating: 5/5
My Review: 
My thanks to Emily Dutton at Accent Press for an ARC of this book which I chose to read/review.
Set in Sutton Coldfield/the West Midlands – I immediately felt comfortable with this book as this is my stomping ground!  The reader is faced with loss, grief, trauma, betrayal, guilt and secrets with the underlying theme of how far would you go to get justice and could you face the consequences of the decisions you make? 
The plot was perfectly paced for this psychological thriller and I raced through this book in record time!  The storyline was OMFG, brilliant! – dark, twisted and unlike any I have come across – just when I had figured something out…BOOM!…the author threw something else in to mess up my head!
A complex mix of characters adorn the pages and the reader will find themselves being pulled pillar to post! I won't name them all, but will highlight those that really stood out to me.  Rachel Dune is the main character and I was drawn to her sheer will and determination when it came to finding out what happened to her son, Joe.  We see her develop and grow as a person with so much happening in her present life as well as her past.  Michael Hemmings….WOW….creepy, yet vulnerable, messed up beyond belief – I immediately thought of the nature vs. nuture theory.  This guy is damaged and it is hard not to empathise with him at times.  Margaret – hmmm….cold, calculating, manipulative – not the greatest role model as a mother.  I instantly disliked her – which made me want to know more!  Finally, Jonathan Waters…*sigh*- loved this character – he almost stole the show for me!  Determined, protective, loyal and in search of the truth.  He is definitely someone you would want on your side!
I had figured out a majority of this story, but that did not take away from my enjoyment of it at all!  So if you want a disturbing, twisted, fast-paced psycholoigical thriller that will leave your skin crawling – buy this book! I will most definitely be keeping my eye out for more books from this author!