Eeeeeek!  I am so excited to have been given the opportunity to give you all a sneak peek at the ever so awesome, Michael J Malone's Dog Fight synopsis! My fabulous #Twinnie, Sharon Bairden of Chapter In My Life was going to do it, but offered it out to me as she knows I am a HUGE fan of Mr Malone's work!  Awwww….love her to pieces!
Last week, Sharon revealed the cover for Dog Fight and you can find that fab blog post HERE.  Now I just LOVE a #BadBoy and Kenny O'Neill makes me *swoon* so I cannot wait to get my hands on this book, especially after reading the blurb!  So brace yourself, #bookjunkies …..here it is!!
Dog Fight by Michael J Malone 
Kenny O'Neill, a villain with a conscience, returns in a hard-hitting thriller of exploitation, corruption and criminal gangs.
When Kenny's cousin, Ian, comes to the aid of a fellow ex-squaddie in a heap of trouble, he gets caught up in the vicious underground fight scene, where callous criminals prey on the vulnerable, damaged and homeless.
With Ian in too deep to escape, Kenny has no option other than to infiltrate the gang for the sake of his family. Kenny is an experienced MMA fighter, as tough as they come, but has he found himself in the one fight he can never win?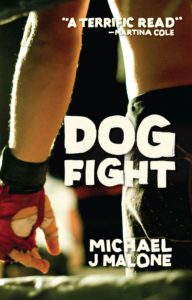 Eeeeeeeeeeeeeek! How GOOD does that sound.  Out April 6th 2017- Trust me peeps, this is one book you won't want to miss!  In the meantime, while you wait – check out the first book in the Kenny O'Neill series: Beyond The Rage and while your at it…check out the McBain series….#AllTheBooks!  Head over to Michael J Malone's Amazon author page and fill your shelves!  Is it bad that I am now picturing Kenny O'Neill is boxer's shorts…topless…with muscles bulging….*Sigh*  
Thanks again, Michael J Malone, Sara Hunt (of Saraband Publishing) and my #Twinnie, Sharon Bairden for the opportunity to *shout out* about this book!  It is going to rock!!  If you want to connect with Michael J Malone, check out his website and/or follow his Facebook page /catch him on Twitter!