Eeeeeeeeek! I am thrilled that my stop on Steph Broadribb's Deep Down Dead blog tour has finally arrived!!  I briefly had the opportunity to shout out about this MOST AWESOME debut novel on Two Crime Writers and a Microphone podcast at the beginning of this year, so you may have some idea of my thoughts, but now I can share my review….so here it is!!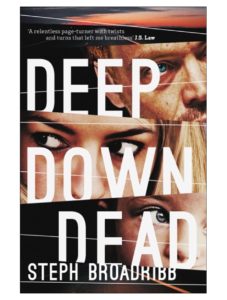 Synopsis:
Lori Anderson is as tough as they come, managing to keep her career as a fearless Florida bounty hunter separate from her role as single mother to nine-year-old Dakota, who suffers from leukaemia. But when the hospital bills start to rack up, she has no choice but to take her daughter along on a job that will make her a fast buck. And that's when things start to go wrong. The fugitive she's assigned to haul back to court is none other than JT, Lori's former mentor – the man who taught her everything she knows … the man who also knows the secrets of her murky past.
Not only is JT fighting a child exploitation racket operating out of one of Florida's biggest theme parks, Winter Wonderland, a place where 'bad things never happen', but he's also mixed up with the powerful Miami Mob. With two fearsome foes on their tails, just three days to get JT back to Florida, and her daughter to protect, Lori has her work cut out for her. When they're ambushed at a gas station, the stakes go from high to stratospheric, and things become personal.
Breathtakingly fast-paced, both hard-boiled and heart-breaking, Deep Down Dead is a simply stunning debut from one of the most exciting new voices in crime fiction.
My Rating: 5/5    #AllTheStars    ⭐⭐⭐⭐⭐
My Review:
A massive *thank you* to Karen Sullivan from Orenda Books for an ARC of this amazing debut novel!
Eeeeeek!  So where do I start?  How about from the beginning!  Set in the good 'ol US of A – between West Virgina and Florida, the reader is faced with power, control & corruption; past secrets; anger; fear; retribution and justice.  How far would you go to protect those you love?
This book starts with a *Bang* that instantly drew me in…a suckerpunch of literary genius, I was left defenceless as I quickly became tangled in Lori Anderson's web of non-stop, thrilling action! What a bloody rush! The plot was fast-paced and unrelenting in its delivery! I knew from the get-go that this book was one that I would finish in hours – it was, and I did!  I am not going to rehash the synopsis (see above) but I loved the action thriller feel of this storyline!  All the elements of a great #CrimeThriller were woven in these pages, I cannot believe this is a DEBUT novel!!
The characters fascinated me – characterisation is not an easy task, however Steph Broadribb clearly knows how to make fiction feel a reality through the character's voices which shout out from the pages! Lori Anderson, for instance, is a kickass female lead!  She has a tough exterior, is fighting her own demons, has morals but will do whatever it takes to protect those she loves.  Halfway through reading this novel, I developed a southern accent and was ready to take on the world!  I want to BE Lori Anderson! Hell, I want to be a bounty hunter!!
Can we talk about JT (Robert James Tate)!? Well OH-MY-FRIGGIN-GOD -*Fans myself* – he is #DeepDownDirty – in the most wonderful sense! Lori describes him in the book as "a dirty kind of perfect" – and he is!  Oh yessssss…he bloody well is!  Ok- so he is a loner, tough guy and let's be real….a bit of an arse, he is also protective, loyal and follows his own moral compass.  If you do not fall in love with this guy, what the hell is wrong with you!! ??
I also adored Dakota – Lori's daughter.  This thread really pulled at my heartstrings, despite not having a maternal bone in my body!  Well done, Miss Broadribb!  Some scenes in the book were so well written, I just wanted to reach into the pages and give Dakota a massive hug – tell her that her mum would protect her and be strong. WTAF?! How did you do that Steph Broadribb!!
The baddies in this book are uniquely portrayed and the reader instantly feels repulsed, angered and a strange desire to wipe the floor with these nutjobs.  Oh man, I wanted to properly kick some ass when the baddies reared their ugly heads!  THAT is what this book does to you!  Drags you into the story and spits you out at the end gagging for more! SUPERB!!
Do I recommend this book? Hell-Damn-Yeah, I do (may have to change that for amazon! ?) – but if you are looking for an action-packed, high intensity, emotive, kickass read…#BUYTHISBOOK !  I cannot wait to see what is next in store for Lori Anderson!  Link is below, #bookjunkies – don't make me open a can of #WhoopAss on you! CLICK-THE-LINK!
DEEP DOWN DEAD by Steph Broadribb