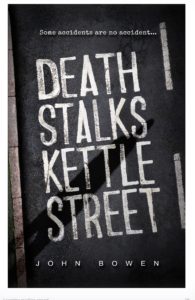 Synopsis:
Some accidents are no accident…
Someone is murdering Greg Unsworth's neighbours and staging the deaths to look like accidents.
Greg knows the truth, but when he's grappling with OCD and simply closing his front door and crossing the road are a battle, how is he supposed to catch a serial killer?
Meet Greg Unsworth, afflicted with OCD, who begins to realize that a series of fatal accidents on his street are in fact a series of murders. After encountering Beth Grue at the scene of one such crime, the two bond over their shared fears and suspicions, and struggles: Beth has cerebral palsy. When the police repeatedly dismiss their concerns, they take matters into their own hands and attempt to discover the killer's identity and expose him…
My Rating: 4/5
My Review:
My thanks to the author for the ARC of this book, which I chose to review.
I loved the way this story was mainly set on "Kettle Street", although references to the "City Centre" were noted throughout.  Within the pages of this cosy murder mystery, the reader faces assumptions, judgements, the overcoming of fear/anxiety when lives are at stake as well as the seeking of truth and justice.
This book started off with a bang and immediately had me intrigued!  The murders start from the get-go but the pace is perfect in terms of a gradual build-up, with the reader wanting to know more as each page is turned!  I thought the plot was clever and kept me guessing as the storyline developed through the characters decisions, experiences and insights.
The reader gets a feel about the diverse group of individuals that inhabit "Kettle Street" through other character's observations. There was a myriad of characters in this story, but two stood out the most for me.
Greg lives on Kettle Street and is an introvert in the main. His OCD and anxiety/panic attacks keep him fairly isolated unless he needs to do something that is part of his regular routine.  He is a likeable character – his fears rule him, he is smart, witty, and struggles with socialising.  But then he meets Beth.  Adore her!  She has cerebal palsy but does not let this rule her life.  She is strong, determined and a wee bit sassy!  Beth and Greg end up thrown together when they question one of the "accidents" and embark on a type cluedo deconstruction of the "crimes" – piecing together the mystery of death that is "stalking" Kettle Street. I don't want to say much more, because it is the characters that really bring this story to life.
Don't get me wrong, there are other characters that really add to this story and the author makes you question whether or not they could be the culprit.  I was dead sure I had solved the mysetry, until the big reveal which I did not see coming.
So do I recommend this book?  Hell yeah, I do!  If cosy murder mysteries with a twist are what tickles your fancy, then click the link below and try to solve the mystery of Kettle Street!
Death Stalks Kettle Street by John Bowen