Woohoo!  Thrilled my 'lil star has read and reviewed the fantabulous Alex Caan's Cut To The Bone!  I simply LOVED this book and was fascinated by the world of vlogging!  This book not only made my #TopReadsOf2016, it was my December #BookOfTheMonth and also the best #Debutof2016 alongside AA Dhand's Streets Of Darkness! Time to find out what Claire Knight thought of this book…..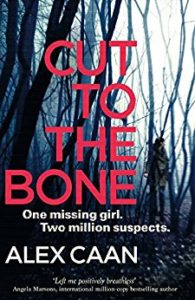 Synopsis: 
One Missing Girl. Two Million Suspects.
Ruby is a vlogger, a rising star of YouTube and a heroine to millions of teenage girls.
And she's missing . . .
But she's an adult – nothing to worry about, surely?
Until the video's uploaded . . .
Ruby, in the dirt, pleading for her life.
Enter Detective Inspector Kate Riley; the Met's rising star and the head of a new team of investigators with the best resources money can buy. Among them, Detective Sergeant Zain Harris, the poster boy for multiracial policing. But can Kate wholly trust him – and more importantly, can she trust herself around him?
As hysteria builds amongst the press and Ruby's millions of fans, Kate and her team are under pressure to get results, and fast, but as they soon discover, the world of YouTube vloggers and social media is much darker than anyone could have imagined.
And the videos keep coming….
Claire's Rating: 4.5/5
Claire's Review: 
I picked Cut To The Bone because the lady of good crime book taste Noelle raved about it just before Christmas. I knew it was on the pile to be read so what better reason to pick it up than the #CrimeBookJunkie recommending it!
It's a fast paced crime thriller with relatively short, snappy chapters. The story jumps between different characters within the police team investigating the disappearance of Ruby, a young up and coming vlogger.
The story is packed with intrigue – I could tell throughout the investigation that everyone is hiding something. What I didn't know was whether the secrets related to Ruby's disappearance or were people just hiding information to save face being in the public eye. There are plenty of avenues for suspects. Everyone has a reason to want to make Ruby disappear, some more sinister than others.
There were a couple of characters I didn't like; Harris to start with but then as his character developed and I learnt more about him, I softened towards him and liked the relationship he had with Kate. But then there was Dan, he was everything I dislike in a man; smarmy, thinking he's god's gift and a less than honourable opinions about women.
Kate's story really drew me in – I want to know more, I want to see whether her past will catch up with her. But I get the impression she can handle herself when she needs to.
I do hope that Alex Caan has more to come for this team, I can see this team going far! I am very impressed with this debut and will definitely be waiting eagerly for the follow up – say there is one Mr Caan sir!
Many thanks to Bonnier Publishing, Twenty7 and Netgalley for my ecopy of Cut To The Bone.
Eeeeek!  Awesome review, possum!! So glad you liked it!   I cannot recommend this book highly enough!  Click the link below to grab yourself a copy, #bookjunkies!