Woooohoooo!  My 'lil star guest reviewer has finally caught up on the #DIKimStone series and looks like she LOVED the latest as much as I did!  Check out her fabulous review below!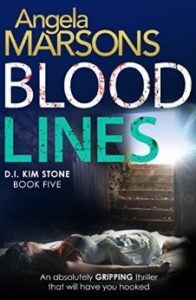 Synopsis:
How do you catch a killer who leaves no trace?
A victim killed with a single, precise stab to the heart appears at first glance to be a robbery gone wrong. A caring, upstanding social worker lost to a senseless act of violence. But for Detective Kim Stone, something doesn't add up.
When a local drug addict is found murdered with an identical wound, Kim knows instinctively that she is dealing with the same killer. But with nothing to link the two victims except the cold, calculated nature of their death, this could be her most difficult case yet.
Desperate to catch the twisted individual, Kim's focus on the case is threatened when she receives a chilling letter from Dr Alex Thorne, the sociopath who Kim put behind bars. And this time, Alex is determined to hit where it hurts most, bringing Kim face-to-face with the woman responsible for the death of Kim's little brother – her own mother.
As the body count increases, Kim and her team unravel a web of dark secrets, bringing them closer to the killer. But one of their own could be in mortal danger. Only this time, Kim might not be strong enough to save them…
Claire's Rating:  5/5
Claire's Review:
I'm going to put this out there at the beginning, I love Kim Stone! She's brilliant. She's a hard nosed, not-to-be-messed-with police detective with a gut that sniffs out clues like my kids can sniff out chocolate and sweets.
I've loved all the stories so far, they've got better each time. The author's writing has drawn me into Kim's world, I feel I'm right there in the thick of the investigation! This time round Kim's got more than just unconnected murders to deal with. Alex Thorne is back! I loved the devilish character that first appeared in the second Kim Stone book "Evil Games". She's so calm and calculating. She knows how to mess with someone's head, a master (or mistress to be precise) of mind manipulation. She can wrap someone round her finger and not in a good way. Alex Thorne is one of the more evil characters I've read about – I think that what makes her so dark is the fact that she doesn't get her hands dirty, she's removed herself from the dastardly deeds that she meticulously plans.
Blood Lines is no exception to the series, we find out more about Kim, her angst, her history, the things that make her who she is. This does not detract from the storyline, in fact it adds to it – I'm not going to say anymore as that would be a #spoiler and no one like a spoiler!!
Many thanks to Netgalley and Bookouture for my e-copy of Blood Lines. I cannot wait for Book 6!!
Another awesome review, Claire….I have it on good authority that Book 6 is going to be just as mind-blowing….and that is all I am going to say about that! #Teaser ? If you have not read any of these books by Angela Marsons, you have NO IDEA what a great series you are missing out on…but click the link and make a start….you won't regret it! 
Blood Lines by Angela Marsons – click here