Oh-My-Friggin-God!  Never mind #WTFthatending – for me, it is definitely OMFG #WTFThatBook!  In case it is not obvious, I am ecstatic to be taking part in Sarah Pinborough's Behind Her Eyes  blog tour! My thanks to the publisher and Netgalley for an ARC of this utterly BRILLIANT novel!  I am not even going to waffle on….check out my review!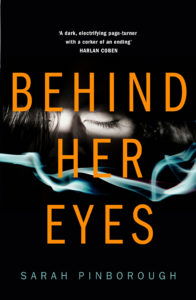 Synopsis:
Louise
Since her husband walked out, Louise has made her son her world, supporting them both with her part-time job. But all that changes when she meets…
David
Young, successful and charming – Louise cannot believe a man like him would look at her twice let alone be attracted to her. But that all comes to a grinding halt when she meets his wife…
Adele
Beautiful, elegant and sweet – Louise's new friend seems perfect in every way. As she becomes obsessed by this flawless couple, entangled in the intricate web of their marriage, they each, in turn, reach out to her.
But only when she gets to know them both does she begin to see the cracks… Is David really is the man she thought she knew and is Adele as vulnerable as she appears?
Just what terrible secrets are they both hiding and how far will they go to keep them?
My Rating: 5/5 – #AllTheFrigginStars!
My Review:
Holy sh*t!  Where the hell do I start!?!  How about the cover?  Beautiful, creepy…mesmerizing…..I am stalling here, peeps!  I want to scream #AllTheEeeeks and #AllTheOMFG's!  You just have no idea! But that cover is gorgeous! Definitely had a #Covergasm when I first laid eyes on it!
Set in London, the reader is dragged in….willingly, I might add….to a world full of secrets; betrayal; desire; fear; masterful manipulation & control; twisted love and revenge.  And thank holy heck that the #KillerHook I need in a book was right there from the get go, as I worried that with all the hype that surrounded this book, well maybe it would not live up to it …..it did…and so much more!
The story is told from mainly the view point of Adele and Louise – though David manages to squeeze a few words in now and again too from his POV.  The plot did not initially feel fast paced – though it was – and I suspect this was because I was so caught up in it, I had not realised how quickly I was getting through it! #PagesOnFire!! The reader also moves with the characters from past to the present – but not in a clumsy way – seamless in my opinion – I did not find myself lost, confused or having to go back/forth at all!
I adored the characters in this book! Ab-so-friggin-lutely adored them!  Well developed, superbly written – with a depth and relateability (is that a word? ?) that really drew me to each one for different reasons. I LOVE that!!  A complicated tryst sees Adele, David and Louise come into each others lives and this just adds the intrigue and suspense throughout.  Right from the start, I was desperate to know what the hell was David and Adele's relationship about!  David is deep, haunted and although at times he wears his heart on his sleeve there is something about him that makes you feel almost wary of him.  Then there is Adele, David's wife – well jaysus…what a fabulous character.  I never thought I could love and hate someone so much – wonder if that is how David felt!  Beautiful, but very much co-dependent- confident but confused – I just wanted to know what made her tick. But Louise….I totally related to this character…the things she felt, thought, did…she is the kind of girl who you could see yourself being friends with, or you see yourself in – with her own demons to battle, she is "normal", intelligent, easily led and far too trusting at times!
I thoroughly enjoyed when all the pieces came together in this book!  I almost strutted around, cocky grin on my face thinking…#IGotThis – no surprise ending at all….BUT WTAF!?!  Wrong…wrong…wrong….You will NOT see that ending coming and if you say you did…well I say you LIE! ? #Bookjunkies…..it is just bloody AWESOME!   I had to read it twice….I had one of those shake-your-head-cartoon-moments -huh? Did I just read that? Nooooo….did that just happen….OMFG ..it did! WTAF!?  Yeah…THAT!
I am not even going to say it gets a Hell Yeah recommendation from me…instead, it gets a #WTFYouHaventBoughtThisBookYet? recommendation – it is so much more than just the ending…this book is a #MustRead for anyone who really wants their mind blown!  Do it…click the link….you know you want to! ?