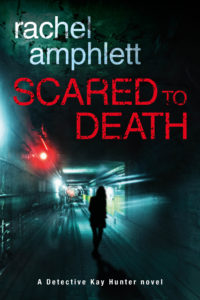 Synopsis:
A serial killer murdering for kicks. A detective seeking revenge.
When the body of a snatched schoolgirl is found in an abandoned biosciences building, the case is first treated as a kidnapping gone wrong.
But Detective Kay Hunter isn't convinced, especially when a man is found dead with the ransom money still in his possession.
When a second schoolgirl is taken, Kay's worst fears are realised.
With her career in jeopardy and desperate to conceal a disturbing secret, Kay's hunt for the killer becomes a race against time before he claims another life.
For the killer, the game has only just begun…
Scared to Death is the first book in a new crime thriller series featuring Kay Hunter – a detective with a hidden past and an uncertain future…
My Rating: 5/5
My Review: 
My thanks to the author– Rachel Amphlett, for an ARC of this book which I have chosen to read/review and give honest feedback on.
Set in Kent, the reader is taken on a whirlwind of a journey involving kidnap, the past, bullying, power & control, various levels of abuse and misplaced loyalties.  What a ride!
OMFG, #bookjunkies!  To say I consumed this book like a chocolate-starved little girl who stumbles across a big bar of cadbury's would be an understatement! This book sparked all my synapses and excited me beyond belief!  Starting with a #KillerHook, the plot was cleverly written to build the suspense and sustain it throughout.
I loved that even the characters gave me a buzz from the get go.  I WANTED to see how they developed and I was thrilled at how easily I became attached to them.  DS Kay Hunter is strong-willed and determined, but has a bit of a chip on her shoulder – always trying to live up to her mother's expectations but always falling short.  She has had a life shaping event recently but luckily has her boyfriend, Adam to share the pain and support her.  Love this couple! I definitely think they have more to offer and hope to find out more in a future series.
I was intrigued by Ian Barnes and kinda wish we learned a little more about him….though, the author may be saving this, teasing us so that we are at her mercy!!  I felt the same way about DI Sharp.  I want to know more, more, more!
The antagonist is brilliant!  I did guess some of the twists, but you know what…it didn't matter!  The evil that oozes from the baddie is just superb.  Skin-crawling, goosebumps and a little bit of sick in my mouth evil!  Love it! If the baddie in a series piques my interest, I know I am in for a fabulous read….and I was!
If real life did not constantly interrupt me, I would have read this book in hours!  I seriously did not want to put it down.  It drew me in and the twists really had me on the edge of my seat!  So would I recommend this book?  OMFG, that is a seriously massive HELL YEAH!  And to think I nearly turned this review request down because I was so busy!  If you are looking for a crime thriller with twists, a kick ass baddie and some fantastic characters, then click the link below…you won't be disappointed!
[amazon template=iframe image&asin=B01N9DS5NG]