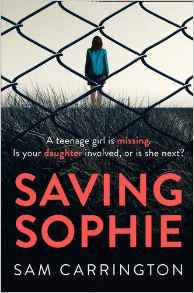 Synopsis:
A teenage girl is missing. Is your daughter involved, or is she next?
Your daughter is in danger. But can you trust her?
When Karen Finch's seventeen-year-old daughter Sophie arrives home after a night out, drunk and accompanied by police officers, no one is smiling the morning after. But Sophie remembers nothing about how she got into such a state.
Twelve hours later, Sophie's friend Amy has still not returned home. Then the body of a young woman is found.
Karen is sure that Sophie knows more than she is letting on. But Karen has her own demons to fight. She struggles to go beyond her own door without a panic attack.
As she becomes convinced that Sophie is not only involved but also in danger, Karen must confront her own anxieties to stop whoever killed one young girl moving on to another – Sophie.
My Rating: 4/5
My Review:
My thanks to the author– Sam Carrington, for an ARC of this book which I have chosen to read and review.
The story is set in Coleton, Devon and the reader is immediately faced with fear, loss, betrayal, anxiety, mistrust, secrets, the desire to fit in and questions…so many questions….!
I thought the prologue of this book was fantastic! The plot was fast-paced initially, but seemed to dip a little before it picked up again towards the end. I think I mentioned, I had so many questions– my mind was in overdrive — right from the start and I was immediately hooked by the story-line.
I enjoyed the short, sharp chapters of this book.  It gave you a feel for the intensity and build up of suspense.  I also thought that Karen and Amy were great characters and really well written.  Their development was evident as the story unfolded and you learn a little bit more as each chapter revealed snippets of a back story.  I felt for both characters for different reasons.  Amy was strong, independent but also quite vulnerable.  Karen on the otherhand wanted to be strong but an experience she had yet to deal mentally with had her anxiety levels crippling her to the point that her determination was shattered. I thought Mike, Karen's husband, was also a great character.  He is clearly torn and the reader (or at least me!) starts to feel the same frustrations.  He tries to be understanding but just reaches the limits.
D.I Wade was a character that I felt I never really got to know much about, but wanted to.  That may be more to do with my love of police procedurals however- and this is not labelled as a police procedural! #MyBad – I just felt she had more to offer. Maybe this is an avenue the author will be exploring another time!?
The adversary in this book was interesting.  I am not sure I totally bought the motive, but I can't really expand on this without giving away any spoilers…so I won't!  This character definitely intrigued me, even though I guessed the identity and a few of the other links before the big reveal.  That did not detract from the story at all – I was actually thrilled that I had cracked the case! #WannaBeFictionalDI
I do have to say, taking into account that this is a work of fiction, there were parts that I found a little too far fetched and scenes that dragged on that wee bit too much.  But, that being said, for a debut novel, this was certainly pretty damn good!  There were twists, suspense and a crime that left me guessing.
So would I recommend this book?  That would be a Hell Yeah, for sure!  If you are looking for a psychological crime thriller that will make you wonder where the story is going, then click the link below and grab a copy of Saving Sophie!
[amazon template=iframe image&asin=B01DT37C1O]