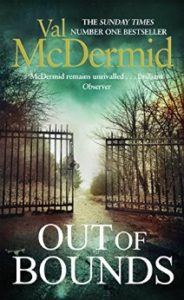 Synopsis:
'There were a lot of things that ran in families, but murder wasn't one of them . . .'
When a teenage joyrider crashes a stolen car, a routine DNA test could be the key to unlocking the mystery of a twenty-year-old murder inquiry. Detective Chief Inspector Karen Pirie is an expert at solving the unsolvable. With each cold case closed, justice is served. So, finding the answer should be straightforward, but it's as twisted as the DNA helix itself.
Meanwhile, Karen finds herself irresistibly drawn to another case, one that she has no business investigating. And as she pieces together decades-old evidence, Karen discovers the most dangerous kind of secrets. Secrets that someone is willing to kill for . . .
My Rating: 5/5  #AllTheStars
My Review:
A massive thanks to Grove Atlantic / Little Brown Book Group and Netgalley for an ARC of this book!  When I had put my request in to review, I was on tenterhooks waiting to see if it would be approved – when it was approved….well I think there may have been a *happy dance* …ok, there was!  ?
Set in and around Edinburgh, the reader is faced head on with secrets, betrayal, politics/power, loss and the over riding search for the truth and justice.
In terms of plot, structure and style, well come on….we are dealing with Val McDermid, THE Queen of Crime Writing so needless to say, this book was perfectly paced for a Historic Crime Unit's case – a gradual build up that has you hooked from the get go! With various threads and a complexity that is intriguing yet easy to follow, the reader is drawn in and then #Boom – hit with twists that will keep you guessing!
I loved the authenticity of the police work and hierarchy within this novel.  The process and forensics fascinated me and reminded me of a few real life cases I had read about in University involving familial DNA.  Awesome! The Historic Crime Unit / cold cases interest me too, so learning that this was the focus of this book…well I just may have Eeeeeek'd!!
There were so many characters that I simply adored.  The author is a master of characterisation to the point where you almost feel like you are reading a True Crime story from the POV of each involved in the case!
DCI Karen Pirie is a dedicated, determined and wonderfully flawed protagonist.  I have a soft spot for this Detective and enjoyed her strengths and weaknesses because they made her believable.  I liked that she was not afraid to question/challenge her colleagues, no matter their rank. I also enjoyed her vulnerabilities which were the foundations of her dedication and ability to get the job done.  I felt her loss in terms of her partner, Phil and how she placed herself in risky situations – almost taunting someone to do something so she could be with Phil – knowing the she would fight for survival if anyone were to dare.
Jason Murray – "The Mint" — awwww….I don't have a maternal bone in my body, but this guy…I just wanted to mother him.  He is the other half of the HCU ( a two person Unit) and is so trust-worthy it could end up being his down-fall.  Karen works around his flaws, protects him while trying to teach him but I suspect there is only so far she will go…she may just need to shove him out of the nest and hope he learns to fly, not fall!
Now Giorsal Kennedy is another character I was drawn too.  I have absolutely NO CLUE how to pronounce her name, but I love it!  An old friend from Karen's past, she is a Social Worker who helps Karen with the technical aspects needed to get some information.  I thought it was great how these two women just picked up their friendship where they left it 15 years before.  I suspect they will be strong support for each other and hope this is not the last we see of her.
Although this book is the fourth in the series, it can easily be read as a stand – alone.  I did, however, go and download the other three in the series because I was HOOKED!  It had been awhile since I read any books from Val McDermid….#MyBad… but now that I have had a fix, there is no way I am going to wait as long again.
Do I recommend this book?  You bet your sweet arse I do….I mean, it IS Val McDermid!!  Don't wait as long as me, get your #CrimeFix and click the link below!
[amazon template=iframe image&asin=B010RGSE5Y]