Hope you all had a very, Merry Christmas!  It's back to reviewing for us here at #Crimebookjunkie  and today sees my awesome Guest Reviewer, Claire Knight, telling us what she thinks of David Ahern's Madam Tulip….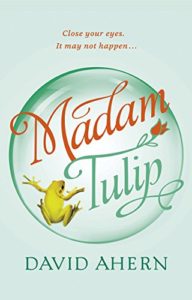 Synopsis:
Out-of-work actress Derry O'Donnell is talented, professional, just a little psychic… and broke. Spurred on by an ultimatum from her awesomely high-achieving mother, Derry embarks on a part-time career as Madame Tulip, fortune teller to the rich and famous. But at her first fortune-telling gig – a celebrity charity weekend in a luxurious castle – a famous rap artist mysteriously dies.
As Derry is drawn deeper into a seedy world of fashion, millionaires, horses and cocaine, she must race to save her best friend from jail and a supermodel from being murdered. Her efforts threaten to destroy her friends, her ex-lover, her father and herself.
Claire's Rating: 3.5/5
Claire's Review:
I don't think I did Madam Tulip justice. I read it over the period I was moving house and life was throwing those evil curveballs so I wasn't fully focused on spending time with my Kindle. It took me three weeks to read this light-hearted cosy crime story which is unheard of for me – I'm normally 4-5 days a book, 2 days if it's a free weekend.
Despite real life screaming for attention, I worked my way through Madam Tulip. It's an entertaining read. Thankfully for me the story wasn't too complicated, so I was easily able to pick up and put down as my time demanded.
I really took to Derry as a main character and her little posse of Bruce and Jacko. Bella despite her brief appearance, plays a great bestie to Derry. I loved the transformation from Derry to Madam Tulip; I had a proper picture of Madam Tulip in all her regalia!
This is definitely the lighter side of crime fiction but it made a refreshing change to the darker crime and psychological thrillers that my normal reads. I know there is a follow up from the author so it will be read at some point in the future!
Many thanks to the author and Crimebookjunkie Book Blog for my copy of Madam Tulip.
Thanks Claire!  If you are in the mood for a wee #CosyCrime book, then click the link below!
[amazon template=iframe image&asin=B01DPY6FLA]