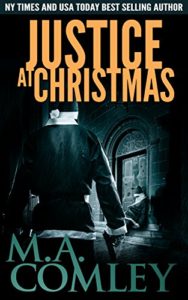 Synopsis:
A Christmas short story of 10,000 involving all the old members of the team.
DI Lorne Simpkins and her partner DS Pete Childs encounter a dangerous gang of Santas who plan on creating havoc on the streets of London on Christmas Eve.
Pete is persuaded to go undercover to foil the gang's audacious plan.
My Rating: 5/5
My Review:
Massive thanks to the author, M.A. Comley who provided me with an ARC of this book.  I choose to read/review and offer my honest opinion.
EEEEEEK!   I do LOVE the #Justice series and was over the moon to receive an ARC of this fabulous wee novella!
Set in London we are introduced to greed, the search for justice, relationships; friendships; respect and the fact that crime doesn't pay when Lorne and her team are on the case !
This is another fast-paced read with a believeable and interesting plot!  I am in awe of this author's ability to get so much in with so little words!  Straight to the point, the story flows from the first page to the last and I was hooked from the get go!  I devoured this book in an hour…AN HOUR!!
I was THRILLED to see Pete Childs back with Lorne (Simpkins in this novella) as they are a force to be reckoned with.  This is the second time this year that Pete has reappeared and I was over the friggin moon!  What I love about the character is the impact he has had on me as a reader, despite the number of appearances he has had in the series….I will just leave it at that! Justice fans will know EXACTLY what I am talking about! Lorne and Pete's relationship is one of mutual respect and I often wondered whether they would ever develop into anything more…but alas…we will never know!!  Maybe if he laid off the chunky kitkats! 😂
I am not going to lie, I want to be Lorne!  Love her character!  She is a strong, no holds barred female lead that really draws the reader in!  She has her flaws, but she holds her hands up, owns them and moves on! I nearly cried when I saw that Henry (her dog) was also back in this book…ok…ok….I did shed a tear!  It was a lovely trip down the Justice memory lane!  The author also reminded us about the fractured relationship between Lorne & Tom and how sometimes we make decisions for what we think is right at the time…but actually, they are not. #BeenThereDoneThat!
The baddies were also a mixed group….some you felt for, while others you wanted to see get their just desserts!  The nastiness levels are just right and the gang soon learn what #swiftjustice is all about!
Would I recommend this book? OMFG, of course I would!  In fact, I can never shout out enough about the WHOLE justice series!!  If you are looking for a quick read, #JusticeFix, that is intense, full of suspense and will leave you wanting more…grab yourself a copy via the link below!
[amazon template=iframe image&asin=B01N2L7P9E]
And if you want to read this series in order, the list is below! 
The Justice series in order are:
Cruel Justice #1 in Police Procedurals and 1# Women Sleuths. FREE
Mortal Justice – A justice novella only 99c/99p
Impeding Justice #1 in Police Procedurals
Final Justice #1 Action and Adventure #1 Women's Detective
Foul Justice #1 Hard-Boiled Mysteries
Guaranteed Justice #1 Women Sleuths
Ultimate Justice – #2 Women Sleuths
Virtual Justice – #1 Hard Boiled/#2 Psychological Thrillers
Hostile Justice – #1 Police Procedural
Tortured Justice – #2 Women Sleuths
Rough Justice – #1 Police procedurals
Dubious Justice – #1British Detectives
Calculated Justice – #1 Action and Adventure
Twisted Justice – #1 Vigilante Justice
Blind Justice – introduction novella to the series.
PRIME JUSTICE – now available for pre-order