It's Claire's stop on the Dark Minds blog tour and today she shares her thoughts on Anita Waller's short story: I've Gone.  First a bit about the anthology and the author!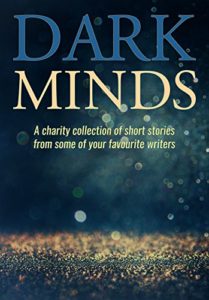 Synopsis:
A collection of short stories from some of your favourite authors
You think you know darkness? Think again.
Bloodhound Books presents Dark Minds – a collection of stories by authors who have come together to produce an anthology that will lure, tantalise and shock its readers.
What took place By the Water?
What goes on behind A Stranger's Eyes?
And what is so special about Slow Roast Pork?
From master authors such as Lisa Hall, Steven Dunne, Louise Jensen and Anita Waller, readers can expect a one hell of a ride…
All profits from the sale of this book will be donated to Hospice UK and Sophie's Appeal.
Dark Minds is a collection of 40 crime and thriller short stories from authors including; Louise Jensen, L.J. Ross, Lisa Hall, Steven Dunne, Betsy Reavley, M.A. Comley, Alex Walters and Anita Waller plus many more. For the complete table of contents, Look Inside on amazon.
About The Author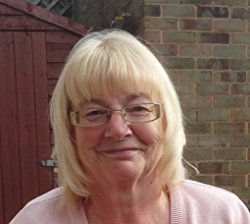 Anita Waller was born in Sheffield, South Yorkshire in 1946. She married Dave in 1967 and they have three adult children, Matthew, Siân and Kirsty along with seven grandchildren ranging in age from Brad at 22 down to baby Isaac, now almost 2 years old. And now, to bring further joy, their first great-grandchild, a little girl, is due on 7 January 2017, their golden wedding anniversary!
She began writing when she was around 8 years of age, writing 'compositions' at junior school that became books with chapters.
In 1995 she sent Beautiful to a publisher and as they reached the contract stage the publisher went into liquidation. It was all to do with Eric Cantona and leaping over the barrier – don't ask!
As a result, the book was consigned to the attic in dejected disgust but in 2013 it was dragged out again for an enforced complete re-type. The original was written on an Amstrad 8256 and the only thing that remained was one hard copy.
Anita is not a typist and it was painfully reworked over two years, submitted to Bloodhound Books who, within three days of reading it, offered her a contract. 1 September 2015 it was released as an ebook, to be followed a couple of days later by the paperback version.
Following the outstanding success of Beautiful, she began a sequel on 27 December 2015, finishing it on 19 March 2016. The new novel, Angel, was launched on 7 May 2016.
Her third novel, 34 Days, followed Angel and was launched on 3 October 2016 to outstanding success; at its highest level, it was #26 in Amazon charts. It is selling equally as well in the US and Australia and has sold over 15,000 copies in the first eight weeks following publication.
Anita has been desperately trying to find another Amstrad marvel written many years ago called Essence of Lavender. This, again, is in hard copy and she has put it carefully away in a safe place. Unfortunately. the safe place is safer than she realised, and she can't find it! This manuscript has now been re-worked and is with her publishers, Bloodhound Books. She is confident the old draft will surface when the new version is launched!
In addition to writing, she also teaches patchwork and quilting – a little reference to this is likely to surface in every book!
She is a Sheffield Wednesday supporter with blue blood in her veins! More than a little reference to this is likely to surface – see 34 Days!
Her genre is murder – necessary murder.
Claire's Review: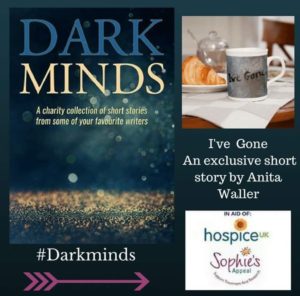 "I've gone" – so many means to what is effectively two/three words, a simple phrase. Where has Kevin gone? Has he left her? Has he just popped out for milk? I totally get not wanting black coffee!
All sorts was raced through my mind as I read and more happened but it was not the ending I was expecting!
This is a fast paced short story and if the rest of the Dark Minds anthology is as good, it's definitely worth getting.
I've got two of Anita Waller's full length novels and reading I've Gone has definitely made me want to read more from this author.
Many thanks to Bloodhound Books for sending me Anita's I've Gone.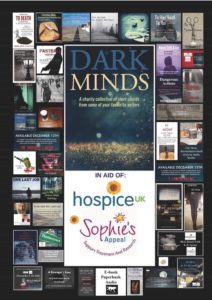 [amazon template=iframe image&asin=B01MTZAGT6]