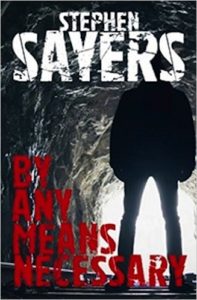 Synopsis:
A PROMISING BOXING CAREER IN THE PAST.
A HORRIFIC CRIME DEFINING THE FUTURE.
A DESIRE FOR REVENGE THAT WOULD HAVE CONSEQUENCES.
Tommy Myers had been an up and coming boxer with his future before him. He will discover that it's impossible to make someone suffer without paying a price. His sister was the victim of an unspeakable crime that set her and her brother on a path they could have never foreseen. She will learn that revenge is an act of passion; vengeance is an act of justice. Jack Hudson believes sadism and cruelty are the path to true power. He will be taught that limits are in proportion to your resolve.
FROM THE MIND OF BESTSELLING AUTHOR STEPHEN SAYERS COMES A NEW BREED OF CRIME THRILLER.
My Rating: 5/5
My Review:
My thanks to David McCaffrey for the ARC and privilege of beta reading this book.  Below is my honest and objective review.
OMFG what a book! For those of you who like the Queen of Crime, Martina Cole and similar authors – like Kimberley Chambers, Casey Kelleher or Mandasue Heller – this book will definitely pique your interest!
Set in Newcastle, between the 1960's through to the 1980's, the reader is thrown into the underbelly of the gangland culture from the get go.  Secrets; greed; betrayal; power; violence as a means to an end; loss; family/relationships; retribution and justice are just a few of the themes you find cleverly woven throughout the pages of this book!
"No one should live in fear, unless it has a purpose"….
The plot is fast-paced and hooks you immediately as you are introduced to Tommy Myers and the story that turns a young, innocent boy into a man who will protect his family "By Any Means Necessary".  It is raw, edgy, and hard-hitting, showing the darker side of individuals based on the experiences that shape them.
The character's voices set the story up superbly! They are distinctive and capture each individual as we follow their journey throughout the story.  Tommy Myers is the main character and next to his (step) sister Karen, he is my favourite by far.  He is determined, a fighter – both physically and emotionally, and a loyal protector when it comes to those he loves.  His fate is determined after he makes the ultimate sacrifice for Karen which lands him in prison – and despite his desire to change his life, he ends up deeply rooted in the criminal lifestyle.  I ADORE this guy!
Karen is another great character also shaped by experiences in her youth.  I was drawn to her because she too, is a fighter!  Despite a horrific event, she turns the tables and uses her anger to rise and become someone you really would not want to mess with.  Ruthless in business dealings, she also has a softer side that comes through at times. The relationship between Tommy and Karen is endearing – together these two could be unstoppable – or so you are led to believe!
Jack…Jack…Jack – This guy reckons he is the "Boss" and uses people to get what he wants. Tommy's nemesis through and through, the reader will be left with a bad taste in their mouth after coming across him.  I really wanted to see him taken down a notch as his arrogance and sleazy way of dealing with things really made my skin crawl.
Alan (Tommy's brother) and DI Patrick Campbell may have smaller parts in this story but the impact and aftermath of their situation steers the plot and really hits the reader hard.  Talk about #BOOMS!
I loved the introspective aspect of this story with Tommy reflecting on how he became who he was.  The character insight was brilliant!  This book is emotive, gripping and full of twists!  A #TopReadOf2016 for me, I highly recommend  you get your hands on a copy "By Any Means Necessary"! (see what I did there!) ??