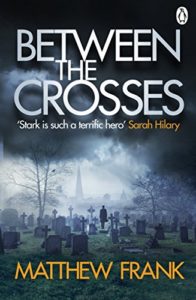 Synopsis:
No longer a trainee but a freshly-minted Detective Constable, Joseph Stark finds himself working a double homicide. Thomas and Mary Chase were shot dead in their London home, and first impressions are that this is a burglary-gone-bad.
But Stark is unconvinced. Burglary-murders are usually a tragic case of unfortunate timing, but this feels like something else entirely. And when evidence arises to link this murder to a twenty year old cold case the hunt is well and truly on.
My Rating: 5/5
My Review:
My thanks to the publisher, Penguin, for an ARC of this superb novel!
What is another word for WOW!? Why, you might ask? Because that was pretty much the only word that escaped my lips as I read this book. It is just THAT good!
Set in London, the reader is faced with lies, secrets, murder, betrayal, the past, loss of control and the search for justice/the truth.  But there is so much more to this story…soooooo much more!
I loved the fact that the plot was constantly moving and kept me on my toes.  The #KillerHook was quickly evident and drew me in from the start.  There was initially a "who-dunnit" feel which quickly turned into a complex but well structured story-line that firmly took hold of me and kept me enthralled from the first chapter right through to the last! This was a believeable story, highly emotive and simply stunning!
The relationship(s) and dynamics between the characters (especially the Murder team) is brilliant!  The author instantly brought the characters to life with his style of writing, use of dialogue and I found myself really intrigued by their backstories, leaving me with a desire to know more. Awesome!
DC Joe Stark – our hero/main character.  He is an ex-veteran struggling to find his feet at times in civilian life.  He is a tragic hero, a bit of a loner and his training has taught him to be somewhat of a "yes" man. But he is tormented – mentally- and he puts up walls, he thinks, to protect others, but really they are there for his own self preservation. Oh…and he can be dangerous – maybe not intentionally- but this is part of who he is and what drew me in – will this be his ultimate downfall….?
DCI Groombridge is a likeable character too, he really stood out for me.  He looks out for his team, lets them do what is required to get the job done, but will also step in when the time is right to make sure the result is for the good of the team.
DS Fran Millhaven was another character that stood out for me.  She is highly pretective of her team and not afraid to challenge the higher-ups when required.  A strong, fiery but highly intelligent female within a very male dominated world. Loved her!!
There were many more characters I could mention, but these three certainly stood out the most for me.  This is a compelling read, highly emotive with an almost haunting feel to it.  There were a few threads running through the story-line which totally intrigued me but did not confuse the story at all.  I raced through the last few chapters and was devasted when it ended – not because it was bad…OH NO….. but because I wanted more!
Do I recommend this book? HELL YEAH, I do! I enjoyed it so much, I downloaded the first in the series, If I Should Die, straight away!  This was a thought-provoking, gripping, intense and highly enjoyable crime-thriller.  Matthew Frank is most definitely on my radar!  If this sounds like something you might be interested in reading too, then click the link and grab a copy – I think you will be more than pleasantly surprised!
[amazon template=iframe image&asin=B01EKPK4BU]