I am absolutely over-the-moon to be taking part in Matt Brolly's #Zero blog tour and cannot wait to read this book!  The topic of zero tolerance in the justice system intrigues me for various reasons – not least because of the fact that it (the criminal justice system) is my day job!  This book is high up on my TBR and I would like to thank Mr Brolly for providing me with this interesting and most awesome guest post!
About The Author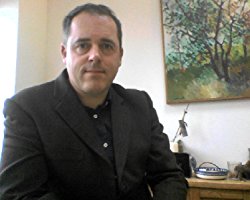 Following his law degree where he developed an interest in criminal law, Matt Brolly completed his Masters in Creative Writing at Glasgow University.
He is the author of the DCI Lambert crime novels, Dead Eyed and Dead Lucky, and the near future crime trilogy, featuring DI Kate Swanson, which begins with Zero.
Matt lives in London with his wife and their two young children. You can find out more about Matt at his website MattBrolly.co.uk or by following him on twitter: @MatthewBrolly
Guest Post: Deterrence in the World of Zero by Matt Brolly (Excerpt)
'The pods were visible at various points through the journey. An outstanding feat of modern engineering, the glass capsules crawled through the night sky snaking across the entire city. They moved along their tracks, dangling like giant lanterns. It was claimed you were never more than one hundred metres away from a sightline of the structure. Lloyd chose not to notice. It was not that familiarity had lessened the wonder; Lloyd never looked at the translucent domes in case he saw someone within he recognised.'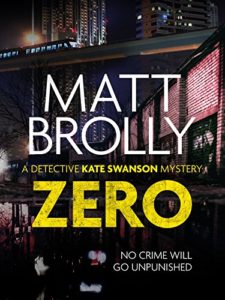 In my new crime novel, Zero, the characters live in a world with a zero-tolerance policy on crime. Every crime, however minor, is punishable by a death sentence. Convicts are placed into the pods – glass capsules which circle the city in the story in view of the inhabitants – until they eventually starve to death, or press a button which releases a deadly toxin into their glass prison. The novel is about many things, but one of the areas I was most interested in exploring in Zero was the theme of deterrence.
To explain my interest in the principle of deterrence, I have to take you back to Swansea University 1995, where I was a second year undergraduate studying law. It was the first day of the second term and I had spent the Christmas break revising my criminal law notes for a test that day. The test was a day-long research exam. Each student was given a selection of questions and had to produce a 2,000 word essay by 5pm that day. Imagine my surprise, and mounting dismay, as I arrived at the law library that morning and looked through the questions only to realise I knew next to nothing about any of the topics.
Once the panic subsided, I read through each question again in a slow and composed fashion and decided my degree was well and truly over! Then I read the question on deterrence again. I can't remember the exact question now, but I remember having a basic grasp of the concepts involved. How hard could it be, I reasoned? You didn't need a law degree to consider the effectiveness of deterrence.
I settled down with my text book, a battered copy of Clarkson & Keating (which I still consult), and began to realise how wrong I was. I spent the next three hours learning the basics of deterrence and formulating the basis of an argument for my essay. Following another five hours of desperate research and writing, a 2000 word essay was finally produced for my lecturer.
For Zero, I took what I had studied about deterrence to its logical extreme both with the death penalty being applied for any breach of the criminal law, and with the visual deterrent of the pods. I wanted to explore what it would be like living in such a claustrophobic society with the ultimate deterrent: break the law and die. Would living beneath the lurking shadow of the pods affect day to day behaviour? Would the enforcement of such a stringent penalty mean crime was less prevalent? Could such deterrence make society better? These are just some of the questions considered in the story, as Detective Kate Swanson, who suffers from kleptomania, begins investigating the case of a missing High Court judge, a man responsible for sentencing people to the pods.
I'm not sure how law is taught in University nowadays, but in comparison to the other law subjects I studied (which were numerous) the criminal law lecturer responsible for this torturous test had a novel approach to teaching his subject. As well as his tests, we were set a number of cases each week to read, dissect, and discuss in tutor sessions. Out of all the subjects, it was the most work-intensive, for me at least, but ultimately the most rewarding. I've never forgotten the elements of deterrence I researched that day in the library, and who knows, if it wasn't for my criminal law lecturer, Zero may never have been born.
Thanks again to Matt Brolly and Canelo who have provided me with an ARC to read! Cannot wait!  Would love to hear your thoughts on the topic of deterrence / zero tolerance so feel free to comment below!  Follow the link to grab yourself a copy of what I suspect will be an interesting and enthralling read! 
[amazon template=iframe image&asin=B01KTUS7KA]